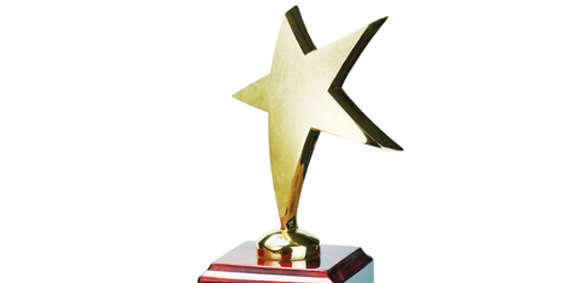 The Stationery Awards are in their eighth year, but this year was a first for two new categories recognising Retailer and Designer contributions to the stationery industry.
The winners for this year's qwards, which aim to recognise and benchmark good practice and innovation in the retail stationery sector, were announced at an informal drinks evening held after the first day of Stationery Show London.
2019 winners – supplier stationery awards
Several suppliers had a good awards evening, picking up a couple of wins each – Quadrille won both the Diaries, Organisers, Calendars and Licensed Stationery categories, whilst ExaClair's new gift wrap range by Clairefontaine also collected two awards, including the Judges' Choice. LaunchPad winner, Makers Cabinet (formerly Brahman Design) won the Desk Accessories category.
Category/sponsor
Company
Product
ART & CRAFTS
Sponsored by Craft Business
Chameleon Art Products Ltd
Chameleon Fineliners
DESK ACCESSORIES
Makers Cabinet
Høvel
DIARIES, ORGANISERS, CALENDARS
Quadrille Publishing
Oliver Bonas: Work Hard, Play Hard & Be Kind A6 2019 Diary
EVERYDAY WRITING INSTRUMENTS
Studio Pens
Kaweco FROSTED Sport Series
FILING & STORAGE
JPT Europe Ltd
+KRAFT
GIFT PACKAGING & WRAP
ExaClair Limited
Tiny Roll Kraft Gift Wrapping Range
LICENSED STATIONERY
Quadrille Publishing
English Heritage: Fold & Post
NOTEBOOKS & JOURNALS
Leuchtturm1917
Bauhaus 100 Years Collection
NOVELTY STATIONERY
Securit by Vermes BV
3D Chalkboard Whale by Securit
SOCIAL STATIONERY
Petra Boase Ltd
Balloon Card Range
WRITING INSTRUMENTS (OVER £25 RRP)
Lime Stationery & Art
Troika Capmatic Pen
GOOD DESIGN
Sponsored by The Giftware Association
VENT for Change
Ideas Collection
JUDGES' CHOICE 2019
ExaClair Limited
Tiny Roll Kraft Gift Wrapping Range
2019 winner – designer stationery awards
The Stationery Designer of the Year Award, sponsored by GO Stationery was won by Laura Jackson of Laura Jackson Design.
Jackson trained in jewellery design and silversmithing at the esteemed School of Jewellery in Birmingham and then embarked on a career in luxury fashion. She spent eight years in design and development at several high-profile international brands in Birmingham and London, before embarking on a nine-month exploration around Asia and the Pacific.
Inspired by her travels she now designs a range of homewares and interior products, all of which are made in the UK.
The team at GO Stationery selected Jackson's submission saying: "A bold, striking, commercial and very versatile winning design – fully adaptable with endless opportunity. Laura clearly knows stationery and proposed the top two selling formats.
"She also went the extra mile and proposed a print specification and price and therefore not only entered with a design concept but has taken it all the way to manufacture ready!"
2019 winners – retailer stationery awards
With the support of sponsor A T Cross, five new retailer categories were added to the Stationery Awards this year for the first time. It was a great evening for Sidonie Warren, co-founder of Papersmiths, which picked up two category awards. Warren was also part of this year's Supplier Award Judging Panel.
Category
Company
Name of campaign (if relevant):
Best Customer Initiative (Instore or Online)
Scrawlrbox
The Scrawlr Challenge
Best POS/Merchandised Display of Stationery
Scriptum Ltd
Vincero!
New Store of the Year
Papersmiths Brighton and
Papersmiths Chelsea
Best Non-Specialist Stationery Store
Papersmiths
Best Specialist Stationery Store
Cult Pens
Don't forget to follow Dealer Support on Twitter!