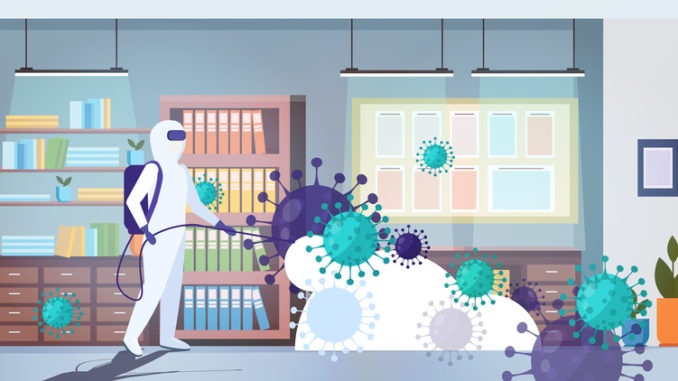 Workplaces are welcoming more employees back, and cleanliness and infection control are uppermost in employers' minds. Dealers have a crucial role in ensuring people have safe spaces to work in
As lockdown measures continue to be reigned back, and something approaching 'normal' life returns, increasing numbers of people are returning to the workplace. In the working week 21-25 April, 58% of workers left their homes for work, according to figures from the Office for National Statistics – up 14% on the period from 10-14 February. This figure is set to increase further in the weeks to come.
However, this return is anything but normal, as Jim Roberts, product manager at Beaverswood, explains. "As businesses return to the workplace, and confidence grows, there will be a cultural shift and a new attitude and awareness to infection control," he says. "This will give resellers the opportunity to support their customers to give staff the confidence to return to work safely, by providing simple and effective solutions with innovative products.
"There is an element of educating the customer on the benefits of some of these systems and solutions, and that's where working with a proactive supplier can help resellers to sell new products and solutions. At Beaverswood we provide our resellers with a toolkit of support – from branded literature and other promotional material right through to product training – enabling resellers to grow both revenue and their customer loyalty."
Opportunities
There are plenty of opportunities for dealers, such as providing supplies such as sanitisers and wipes to encourage employees to regularly cleanse their hands, and wipe down shared surfaces and equipment after use, says Nick Revell, product manager for Kensington, Europe, Middle East and Africa.
"However, for these protocols and measures to be effective, they will require active participation from staff. It can be a hassle to keep up with, and it is difficult to ensure that cleaning is being handled thoroughly enough.
"For instance, keyboards and mice are two of the top five five areas for cross-contamination in an office environment. In response, Kensington has launched a range of hygiene-based products; for example, our washable keyboards and mice can simply be washed under a tap after use," he says.
UV monitor stands with sanitisation compartments are also likely to be popular, Nick adds. "It's a simple device that offers a more thorough clean to protect office workers from bacteria and pathogens via UVC technology."
Lawrence Savage, marketing manager at ExaClair, adds that more products like this will be developed as businesses continue to adapt their working environments. "In addition to the massive surge in demand for PPE items – such as screens, visors, sanitising stations and social-distancing signage – organisations are now seeking products designed to combat the spread of viruses within their premises, including more modular workstations and touchless entry systems," he says.
For instance, says Lawrence, ExaClair has developed filing and desktop accessories where the raw materials used in their manufacturing processes are treated with an organic antimicrobial additive, which gives extra protection against the spread of bacteria, viruses, mould and fungi, eliminating them by more than 99.9%.
Furniture solutions
Jon Askill, marketing manager at Nautilus Designs, agrees that there has been increased demand for products such as antibacterial shelving solutions. "We are also seeing a steady increase in off-the-shelf product innovations and solutions at component level, such as antibacterial upholstery coatings down, to more basic materials with bacteria-repelling qualities, such as brass," he adds.
"Desk divider screens are a good example of a traditional product group, basically consisting of wood, foam and fabric, which has been transformed into a hygiene-specific solution with the offer of fully-encompassing Perspex screens – surpassing the purpose of their original forms. At the constituent level, wipe clean fabrics, through to antibacterial coated upholsteries – though both long-established – have come to the fore because of the pandemic.
"It is our responsibility as suppliers to inform resellers of our existing solutions that are ready for sale, as well as those new innovations which meet this evolving requirement –which, ultimately, need to be communicated to the end-user."
Simon Howarth, marketing and design manager at Dams Furniture, is also convinced that screens that limit the risk of airborne germs between colleagues are important. "If colleagues are too close, and workplaces too densely populated, then people will naturally feel uncomfortable in the space."
"High screens can be added to existing furniture to provide a protective barrier, whether on single desks, bench desk clusters, meeting areas or social spaces. Floor standing desk dividers are also available to sit on the floor and rest on desktops, tabletops and workstations to negate the need to reconfigure existing spaces by applying appropriate distance between people. Having protective screens with anti-microbial treatments, or bleach cleanable products, are just as important to protect employees in the fight against microbes."
Staying sanitised
Meanwhile, washing and sanitising hands regularly and thoroughly will remain important. "Especially when people are working in close proximity, and using the same shared spaces," says Claire Negri, trade marketing executive at Durable (UK) Ltd. "Placing disinfectant dispensers with signs provides a constant reminder about good hygiene practices. The use of contactless bins is rising and keeping desks clear and clean is advised."
There will also be demand for floor markings and professional signage to create space, Claire adds. "Placing markings on the floor helps people to judge distances more accurately, and enables visitors to follow a one-way system if one is in place. Markings can also be placed on chairs to highlight that they are not in use – although remember to choose a removable marking which can be easily removed at a later date.
"It takes just 0.15 seconds for our brains to decide whether or not what we see is relevant. So use straightforward and professional signage to deliver important safety messages clearly."