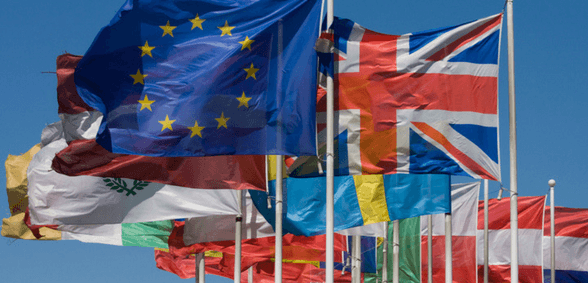 With the uncertainty surrounding the UK's anticipated exit from the European Union, many firms have wondered what this transition could mean for their supply chains. The specifics of how this potential separation will work out are currently unknown, but there is one certainty for ACCO UK – a reliable supply will be formally sustained.
Regardless of Brexit's outcome, UK businesses should prepare operations for new regulations, new registrations and new processes. There is a possibility that we will see changes to customs and tariffs; VAT changes on imports/exports; the impact of longer waits at border control plus much more that could implicate margins and the supply chain.
In preparation for this, ACCO UK formed an extensive project team comprised of members of the firm's sales, operations, supply chain, and marketing departments. The aim was to help to identify and minimise any potential consequences that Brexit could have on their supply chain and delivery of ACCO Brands to their customers.
ACCO UK produces 80% of its own products and has long done so in factories based in Poland, Portugal and Belgium. Its presence across Europe has enabled ACCO UK to operate in close proximity their customers, control and maintain high production quality, and keep the supply chain short, flexible, and reliable. The project team's attention has been focused on ensuring this continues, no matter how the UK chooses to proceed with Brexit.
ACCO UK decided to seize this opportunity to get ahead of the game and not let uncertainty impact the high standards of quality and service customers have come to expect from them. The ultimate goal of this proactive planning was to ensure reliable, continuous supply and delivery of ACCO products.
As a result, the firm embarked on a large-scale stock building project, which is complete. The leading office products supplier now boasts healthy stock levels of its entire 4,500 strong product portfolio range, available in a warehouse in Halesowen in the UK. With its own fleet, ACCO UK can ensure swift and reliable delivery from within the UK.
Mark Wilkinson, regional vice president – UK & Ireland, ACCO Brands EMEA, said: "For most organisations, it is impossible to know what form a supply chain will take in the months to come.  At ACCO UK, we have taken measures, so we are prepared to respond to any challenges that Brexit may have on business proceedings. We have been able to ensure that we have the systems in place so that whatever the outcome, ACCO UK can continue to support our channel partners so that they in turn can deliver our products to their customers."
Sam Ludlow, customer service and operations director, UK & Ireland, ACCO Brands EMEA, added: "The projected exit from the EU has the potential to bring large-scale change within business, causing challenges to the supply chain. ACCO UK have benefitted from early and effective scenario planning, combined with analysis of the potential impacts of a post-Brexit economy. We are entirely confident that we have the secure infrastructure in place to adapt to the changing political landscape, and to remain competitive in this changing market."
Don't forget to follow Dealer Support on Twitter!