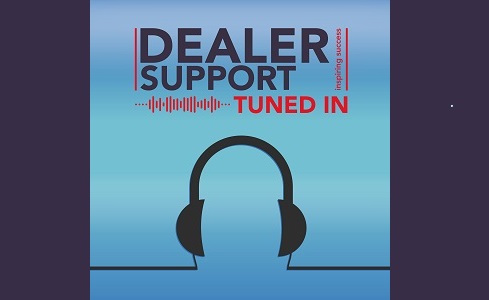 Industry veteran Geoffrey Betts, of Stewart Superior, has been in the office supply market for more than 35 years but is still enthusiastic about the sector – and its future – despite a rollercoaster year.
In all his years in the industry, Geoffrey has not seen a year like 2020, and the threat posed by the COVID-19 pandemic. "We were very badly affected at the start of lockdown," he concedes, "but we managed to turn ourselves into a COVID supplier very quickly. We stayed within the parameters of what we knew, rather than try and get into masks and visors; we stayed in our signage and display category which, fortunately, enabled us to have a tremendous second financial quarter.
"It has been a rollercoaster, to be honest, and I'm grateful to be sat here at the end of November still with a company which is still in good shape."
The company is indeed in good shape. Marlow-based Stewart Superior has maintained a turnover of about £4 million for the past three years which, given the general downward trend in the office products market in that time, is something that Geoffrey is justifiably pleased with.
Export expansion
This maintenance has been primarily achieved by expanding Stewart Superior's markets in recent years. "I started going to America – a bit like taking coals to Newcastle in the view of our being part-owned by an American company – and eventually we found ourselves a partner who took us into Staples and Amazon, and got us started about four years ago.
"That was a tremendous springboard. We are now working with very large resellers in America. We also started working with a company in Canada 18 months ago; that is growing as well, and we are slowly but surely getting our brand established in all the big resellers in Canada and the USA.
Geoffrey adds that Stewart Superior is expanding further into Europe as well. "We had been thinking for a while if we should have a mainland Europe presence, in terms of warehousing and support to our customers, because then we could offer a dropship option to the likes of Amazon, Office Depot, Staples, Lyreco or whoever.
"During the year the pressure has been on more and more to do this. The government has failed us badly in not telling us exactly what is happening with Brexit – the fact that it is November 26, and business does not know what is happening, is quite incredible. How all governments – I include the EU in this – have not managed to reach an agreement is beyond me.
"The decision we took was to make sure we are ok. We are opening a warehouse in Holland – it will be open on December 2 – but we won't start shipping until the new year. We will be a player in Europe to our European customers, and will make all the problems they perceive – and they might only be perception – in dealing with a UK company post-Brexit go away. This gives us the opportunity to do what we do successfully in the UK, and to take more of this into mainland Europe. That is the plan.
"It's an exciting time. Not only have we got the UK to run, but Europe and USA as well, and we can't even get on a plane. Thank heavens for Zoom!"
Independent place
While Stewart Superior has looked overseas for expansion, Geoffrey believes there is still a place for smaller independent retailers in the UK market. "We are in a difficult market, so the industry is doing as well as you could expect it to," he says. "It is one of those situations where suddenly you find a product you have been selling for ever is suddenly no longer en vogue. That's what has happened to the office product market in core stationery supplies."
Replacing those products – and the margins – is difficult, and often requires moving into new markets, but success is usually down to the individual dealers, he says. "You look at the large independent dealers – and even the smaller independent dealers who are growing; if you are hungry, focused and driven, and know where you are going, there is still a great business to be had and you will continue to grow.
"I have never lost my enthusiasm. I still get out of bed in the morning and come in, and there are other people like me out there driving businesses. I hope we continue to be successful. The independent dealer definitely has a role to play; the ones we work with offer great service and have great ideas.
"It's not all about price; it's about service delivery, and taking the customer on an experience – when you come in, they have to think 'What have you got new today?' 'Where are you going to take my business?'"
On trend
Geoffrey adds that it is imperative for successful companies to stay on trend with what customers want, as this is changing all the time. Home working is, obviously, a growth area, and Stewart Superior are planning to launch a furniture range in the second quarter of 2021, preceded by a lighting range in the first quarter, to cater for this.
"The lights will come out with a USB port – no plug socket; you won't have the problem of different plugs for different countries as the USB port is universal," says Geoffrey. "Products will move that way, generally, and that is where we are heading initially," he says.
You can listen to more of Geoffrey's views, including more on his history in the sector, in the second episode of Dealer Support's new podcast. Click here to listen now