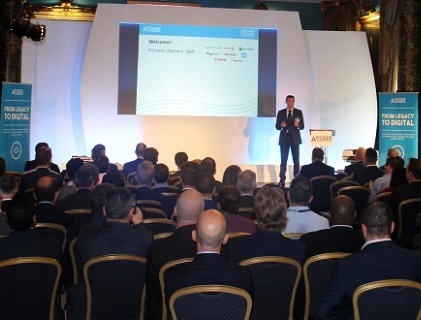 Apogee's exclusive event at the Institute of Directors last week provided a forum for organisations across a wide variety of vertical markets to address the various challenges and opportunities of digital transformation.
The event opened with a powerful keynote from Apogee's Group Marketing Director Gary Downey and continued with Julian Broster, Apogee's Director of Professional Services, discussing conceptual functionality versus products, before guest speakers from HP and Canon were introduced to discuss mainstream issues around today's document security.
Attendees then followed a journey through digital transformation by visiting six specialist pods covering distinct strategies to transform organisations and their operating processes, mitigating the threats and leveraging the advantages of digital technologies.
Apogee specialist staff and partners delivered interactive presentations at each of the six pods throughout the IoD to showcase different business areas and considerations when encountering digital transformation.
The huge success of the unique event was enjoyed by over 100 companies from various industries, organisation sizes and locations across the UK.