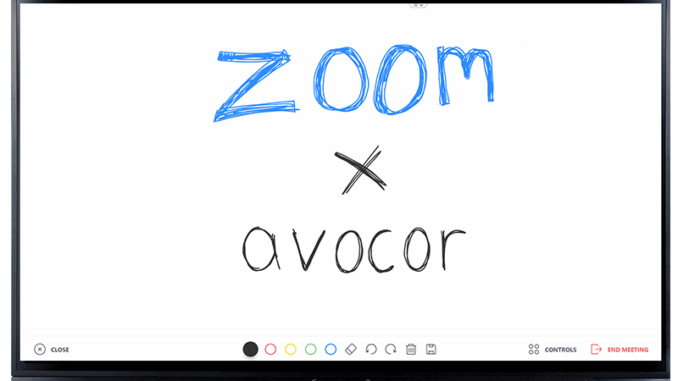 Avocor is teaming up with Zoom, the video communications service, to make video conferencing even easier.
Together they have created the most advanced solutions available that work intuitively straight out of the box and are simple to use. The collaboration kicks off with an integration between Avocor and Zoom Rooms for Touch, Zoom's software-based conference room solutions which runs on large touch displays.
Dana Corey, GM and VP of sales at Avocor, said: "We know that customers want the best combination of solutions and to be able to simply walk into a room, start a meeting and use these tools. With Zoom, we are taking the guess work out of these decisions and creating solutions for both our reseller partners as well as end users so every collaboration space is super easy to use, reliable and intuitive."
To simplify buying the solution, Avocor will provide bundles with Zoom's software pre-installed and bespoke to the customer's needs. Avocor and Zoom are also exploring the creation of proprietary solutions and applications to provide an advanced experience that integrates the sophistication of each system and enhances them being used together.
Avocor will display the initial offering with Zoom this week at ISE 2018.
Oded Gal, head of product for Zoom, commented: "Zoom is focussed on simplifying the customer experience. Working with Avocor is a great way to do that. Our systems work incredibly well together and both have been designed to be robust and easy to use. We want to further enhance the customer experience by taking guesswork out of the hardware and software selection and providing simple solutions to give the customer what they need right out of the box."