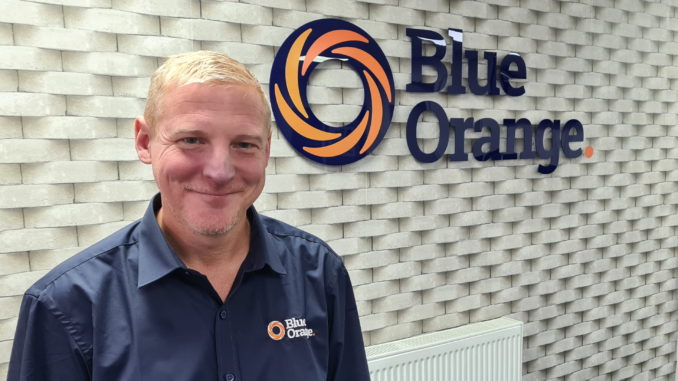 Expanding IT specialist Blue Orange is welcoming a string of new arrivals including operations manager Tristan Carter as part of a continuing £10m growth strategy
Carter boasts more than 25 years industry expertise and is the latest new addition at the Adlington-based services and supply company – that works with big name clients such as Nandos as well as many other businesses, schools and colleges.
Carter will help manage day-to-day operations as Blue Orange looks set to double turnover over the coming years, after a hugely successful 2020, despite the COVID crisis.
"Blue Orange is a company on the rise and I'm looking forward to playing a frontline role in helping develop further success. I see it as the natural next step for me," says Carter who worked in a similar role at IT company Lantec as part of a 14-year career, following 12 years at Dabs. He joined the industry aged 17.
MD David Silous-Holt says Carter is ideally placed to help propel the business further forward. "Tristan has a wealth of experience and really understands the industry inside out, from resellers to managed services. Ultimately the most important benefit is he really understands the exciting journey we are on, as we continue to grow month-on-month. He can help take us to the next level."
Blue Orange specialise in remote and on-site IT services as well as hardware supplies, to customers throughout Lancashire and beyond. The company's ethos is based on integrity, honesty, agility and a fun working environment for its highly experienced technical, advisory and dedicated sales teams. The company was formed 13 years ago and has grown rapidly in recent times – set to hit £5m in turnover this financial year, up around 25%.
Silous-Holt added: "We've made key appointments in November and December with more due to join in January, which are typically slower periods for many businesses. We continue to lay the foundations for further success having also invested in an expanded vehicle fleet. 2021 will be even bigger and better."