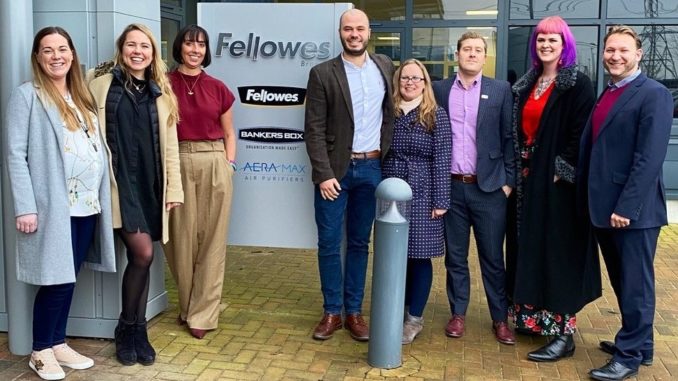 The BOSS Leaders of the Future (LOTF) Committee is starting 2020 with a new chairperson. Scott Castle, marketing manager, VOW Wholesale, was announced at the Industry Leaders meet Future Leaders event late last year taking over from Emily Jones, head of sales retail at Fellowes while she is on maternity leave
Jones, who has successfully led the committee for the past two years commented: "It is great to be handing over to Scott, who has been an active member on the committee since July 2018. Our last event had a real buzz which I know Scott will build on with the team for the next event".
Castle added: "I'm delighted to take on this role and my aim is to continue to develop and inspire future leaders in this industry, building on Emily's great work over the last two years. I have been inspired at Leaders of the Future events in the past, and I've certainly taken things from them that have benefited me in my career since. Hopefully as a committee we can have the same impact on more people, starting with the conference in March which is shaping up to be another can't-miss event."
Alex Stone, business development specialist, Office Friendly and Nell Walker, editor, Dealer Support have both joined the BOSS Leaders of the Future Committee as of December 2019 and will be fully involved in planning the next LOTF conference taking place on the 26th of March 2020 at Stationers Hall, London.
Stone, who has been in the industry for six years and works mainly on strategic planning with senior dealer principles, recently won the joint title of Emerging Professional at the 2019 BOSS Industry Awards alongside current LOTF chair Scott Castle. On his appointment he commented: "I'm keen to meet and engage up and coming professionals in the industry so we can share ideas and collaborate".
Walker has worked in journalism since she was 17 and currently holds the position of senior editor at Dealer Support. She has attended previous LOTF events finding them "hugely inspiring with an enthusiastic and encouraging atmosphere". She is looking forward to developing the how the LOTF group communicate.
Castle commented: "I have crossed paths a lot with both Alex and Nell in the last few years, liaising regularly with Nell in her role as editor of Dealer Support and Alex through is great work with Office Friendly. Knowing both personally, I am excited about what they will bring to the LOTF Committee and am looking forward to working closely with them on the upcoming conference".
Amy Hutchinson, CEO BOSS, commented: "It's wonderful to have a representative from a dealer group and the trade press join the LOTF committee which now truly represents each area of our industry. I know both Nell and Alex will bring energy and unique perspective to the group while helping us extend our network and develop our community."
Don't forget to follow Dealer Support on Twitter!