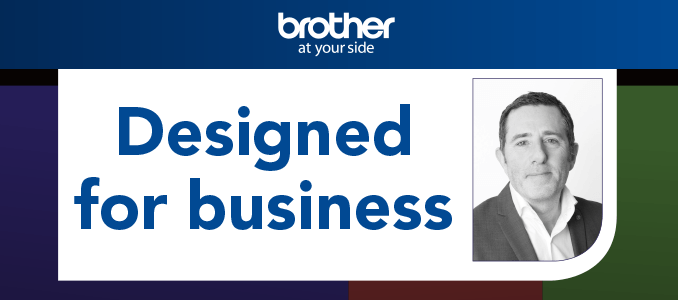 Sponsored
Phil Jones MBE, MD at Brother UK, outlines the state of the print industry and what's next for his business
How does the office products industry remain confident in itself and in the future?
Much is changing from building designs, working practices, technological developments and the role of relationships in an increasingly digital world. Confidence can be built by staying on top of the top-level trends and then figuring out what value the industry can provide in helping solve the inevitable pain points that occur as companies are challenged to change their business models, office layouts or organisational shape.
The industry has always been good at maintaining strong relationships with its customers, which makes life much easier when figuring out how to stay relevant and to direct high quality conversations in amongst all the external change.
What trends have you observed in the print sector, so far, in 2019?
We're seeing a strong trend towards managed print services (MPS) and subscription printing in the mid-market. Print is becoming a utility for many large businesses. Service-based propositions are serving these firms well, ensuring an optimal environment of cost management and user benefit is achieved through the optimisation of print fleets.
Despite many declarations of the death of print, the market continues to be substantial in size and lucrative for those within it. There is a polarisation between low margin, high volume business and higher margin, consultancy led managed estate management, which has changed the shape of the market somewhat.
One big trend we have seen is that more and more businesses are deploying localised inkjet A3 models as spreadsheets get bigger and strategies get reviewed in the boardroom. The business inkjet market is now sized at over 500,000 annualised unit sales in the UK market alone.
It's important for businesses, in an uncertain climate, to be flexible; how does Brother remain adaptable?
It's a combination of processes, people, platforms and product solutions. Like most things, it's not one thing but the aggregation of many things. When you lead a business you really have to be 'on' it. On the strategy, on the culture, on the market and the changes in customer behaviour.
This adaptability has played a key role in the success we've achieved in our 50 years in the UK and it will support us through the next half century, too.
Such an approach requires continued investment in everything from our product ranges, learning and development and our employee value proposition (known as EVP) to attract and retain people, as well as good IT systems.
We've invested heavily in our apprenticeship programme, with our young talent continually enhancing the strong digital and product skills that sit at the core of our business. They will be tomorrow's leaders and responsible for keeping us adaptable.
A lot of dealers are now involved with – or working towards – print-based services rather than just products now. What are the challenges and the benefits of this?
An increasing number of organisations are outsourcing the management of their print fleets, driven by the growth of MPS, where print systems are completely managed through a service provider and vendor partnership. It means up-skilling your people, your systems and your sales force, which means a lot of upfront cost that not all businesses can afford. It also requires more cash as revenue is received on an annuity basis rather than all upfront. It's basically a stick shift in the way you do your business, which will deliver better financial sustainability in the long term.
The rewards are significant. You won't need to spend as much time fighting off predatory attacks of your customer base as they are committed in a longer-term partnership that pays a real dividend. It also makes your business more valuable with annuity revenues contributing higher than average multiples when exiting if that's your long term plan. Nine in ten of our MPS customers renew their contracts with us – a sign that this type of model is delivering significant benefit for businesses.
What do you think are some key business elements that resellers should focus on for the coming few years?
Alongside the transition to a service-based model and bringing in the right skills, businesses across the sector must put a real focus on sustainability. This can no longer be part of a box-ticking CSR exercise – it should be a central part of everything you do. Larger enterprises are requiring evidence of your sustainable practices to do business with you, so it will have commercial ramifications if left unaddressed. We're seeing this shoot right up the agenda of public sector organisations too, so time is of the essence.
What would you say are some of the risks ahead of us, in this industry, and how should we prepare?
Bringing new talent into the sector is a significant challenge and, while we're starting to see progress, we must continue to invest in encouraging young, talented people into the industry. It's a brilliant place to forge a career and the young people we have recruited at Brother UK really see their future with us which is good.
Much of that has been down to the work we have been doing in being a great workplace, our employer brand, working with schools, social media activity plus learning and development practices. We've had to put a lot of new initiatives in place -some of which have been challenging as they've meant big changes for our working practices.
Industry consolidation also remains a theme at every level from vendor through to wholesaler/distributors and resellers. All roads point to a smaller industry with fewer people in it, so the race is on to ensure that you build on your strengths and adjust your business model/costs to cope with any sudden changes.
It's likely that we'll see more business failures, unfortunate as that is, so staying vigilant with your cash flow, debt collection and terms of credit. There is also a lot of underused capacity in the industry up and down the supply chain. This was highlighted at a conference, recently, and needs to be addressed as its contributing to higher operational costs.
Brother celebrated its 50th anniversary last year – so what are you looking forward to this year?
We'll continue to cement our position as a key partner for resellers in the SME and large enterprise space, while building revenues under contract. Industry disruption has meant lots of space has opened to really capitalise on the services propositions we now have. Some of the largest companies in the country now rely on us for their print estate and we are confident we can go into any opportunity with a strong value proposition and win it.
Enhancing our specialist print and labeling solution range for vertical applications, from retail to healthcare, will also be a core focus for the business. Among others, we've recently partnered with food health and safety business Navitas to deliver safer, simpler and more efficient labelling products for the food service industry. Specialised applications and vertical markets are a real strength for the business so we'll continue to scale in these areas.
Don't forget to follow Dealer Support on Twitter!