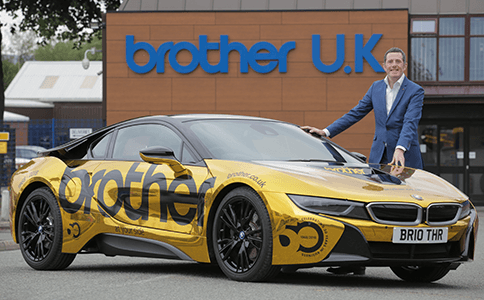 The full spread for this story can be found in July's issue of Dealer Support
How is the gold BMW i8 helping you to mark your 50th anniversary?
Our i8 is representative of Brother UK in many ways.
In over 50 years in business we've gone from typewriters to business technology solutions, and we are constantly looking ahead to see where the market will take us next. It made sense to acquire a vehicle that acted as a metaphor for who we are now with a capability for speed, sustainability and relevancy, the i8 being a hybrid electric supercar. We had it wrapped in gold to represent our 50th anniversary – and to help it turn heads. too.
How important is it for Brother UK to perceived as a sustainable company?
Improving sustainability has been a core focus of the business. Over the past five years we've been supporting the company, our staff and the local community to be more sustainable, through an ethos of 'doing the right thing'. By doing so, it's helped us to improve both our commercial performance and our sustainable development practices.
Earlier this year, we were delighted to be honoured with a Queen's Award for Enterprise that recognises our outstanding achievements in sustainable development. The award is testament to our sustainability successes to date, including continuous annual reductions in fuel usage, and achieving zero waste to landfill for eight successive years. It also recognises our ability to be financially sustainable for many years to come.
Does the gold i8 get around?
We're hitting the road with the i8 and visiting local Greater Manchester schools for our mentoring programme, where we help students develop the soft skills required for employment. As you can imagine, young people love the car, and it's another great way we can engage and encourage them to think about the future of technology, inspiring them to take STEM subjects and, subsequently, to build careers in these sectors or within our own company.
We've also been taking it out to our dealer events, and it's the jewel in the crown of our Brother UK fleet of cars that we use as support vehicles for our cycling events and sponsorship activities.
Aside from Brother UK's 50th birthday, it's also your fifth year as managing director – how have you seen the market change in these five years?
In terms of change in the last five years, it's come in volume, velocity and variance. Reducing costs and providing predictability has been a key priority for many end-customers during this time.
Many tightened their belts in the aftermath of the recession, and again following the EU referendum result in response to higher import charges, inflating prices and lingering economic uncertainty. As a result, end-customers' approach to buying has become more sophisticated as they look to maximise value and consolidate partnerships.
This has led to an overarching trend which has seen businesses look to do more with less and see a return on investment (ROI) almost immediately. It's led many resellers to grow better relationships with their customers through improved support and by providing more tailored solutions to their needs.
This demand for greater ROI in the last five years has also ignited a real shift towards service business models, i.e. managed print services. These can offer businesses better cost-efficiency and more transparency on their investments in print and scan solutions.
How has Brother UK adapted to these market changes in this time?
Two years ago, we set a new strategy in place to react to forthcoming market changes. We called the initiative Transform 2018, which is a three-year vision to reinvent the business and particularly to reinvent our portfolio around recurring revenue products – that includes managed print services, which involves leasing print systems rather than selling hardware individually.
The strategy has required us to invest in our platforms, people and processes to effectively deliver services. We also opened a new state-of-the-art solutions centre at our Manchester HQ, which really helps us to flex our muscles in terms of what we now offer in solutions and services. The end result of this is that we're now winning the tenders for major managed print solutions contracts.
A major caveat to this services transition is that we can't do it alone. We've always been a channel-orientated business, and resellers are a very important partner for us in delivering basic service solutions to more complex, fully managed solutions.
What's Brother UK's mission for the next five years?
After achieving Transform 2018, we'll be going into the next iteration of the transformation that will take us into 2021. The fundamental goals of this will be to give Brother UK the tools to help people and businesses be more successful, more quickly. If we achieve this, it helps us – as a business – be more prosperous.