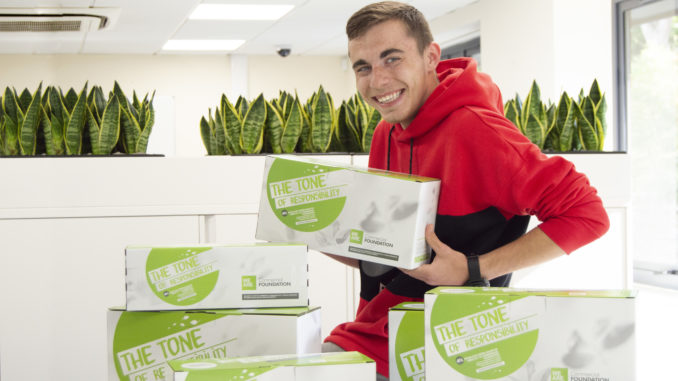 Commercial is launching the Products with Purpose range, which enables its customers to do something good with their everyday office supplies procurement.
The goal is to provide organisations with a tangible and visible way to support social sustainability, and the initial range includes printer/copier paper, toner and ink cartridges. Products with Purpose sales will generate income for social enterprise, Commercial Foundation.
Through its No Limits training programme, Commercial Foundation helps disadvantaged young people develop practical and personal skills to improve their employment prospects. Many of the young people come from troubled backgrounds and most find social or professional situations challenging. On the No Limits programme, they receive ongoing support and a taste of responsibility in real work environments including Commercial Foundation's We Do. Print.
Once they have completed the No Limits programme, 86% of participants go on to secure permanent work or further training. Every £1 spent with, or donated to, the social enterprise generates a social value equivalent of £4.86. The programme has recently been awarded a Level 3 Social Value Quality Mark by Social Enterprise UK.
Simone Hindmarch, co-founder of Commercial, says organisations are increasingly looking for ways to use their purchasing power responsibly and purposefully. "More and more organisations are actively seeking products that are intrinsically 'good'," she explains. "We've seen growing demand for ethical and environmentally friendly products for some time. But Products with Purpose takes this in a new direction.
"Many existing customers have followed our journey since setting up Commercial Foundation in 2015. They have kept up with the progress of the young people involved, and say they want to do more to support the social enterprise. This is what inspired us to create our own Products with Purpose range, and we're confident that it will have wide appeal."
Adam Miller, head of Commercial Foundation, adds: "Our digital print arm, We Do. Print, is performing well, and the additional income from Commercial's Products with Purpose range will enable us to do so much more. We have ambitious plans for 2019, and every £1 we receive is multiplied in terms of social value as we help disadvantaged young people transform their lives."
Don't forget to follow Dealer Support on Twitter!