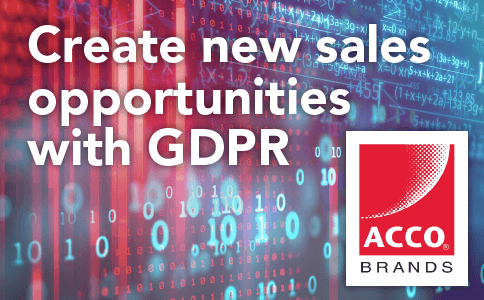 [Sponsored]
While the General Data Protection Regulation (GDPR) – which came into effect last May – might still seem a murky and mysterious topic for some businesses, this can be of enormous benefit to dealers. In fact, independent research by ACCO Brands shows that, thanks to a sudden surge in the need for heightened security, shredder sales across the UK, Germany and France are up 23% – making it a more valuable market than ever to get involved with.
70% of businesses claim that, at this point, they understand GDPR is about more than just digital security – but 60% believe they still have more to learn about the requirements.
ACCO Brands's research shows that 75% of businesses still haven't updated their physical data security policy, meaning that it's time they knew exactly how vital this is in order to achieve full compliance.
Just last month, a news story hit wherein thousands of files containing sensitive information were found at Westbury House – an abandoned care home – potentially causing a huge privacy breach. No business can afford to be cavalier when it comes to personal data.
The research also reveals:
65% have yet to purchase additional shredding equipment.
In fact, over 50% have either just one or no shredders at all.
52% don't understand the security implications of different shredding grades.
The research shows that the majority of businesses that have purchased shredders due to GDPR are ones that already used shredders regularly and had a reasonable knowledge of physical security. This further proves how important shredding is, as customers already experienced in security compliance are continuing to invest – therefore, dealers should assume that all customers are looking to upgrade their shredding capabilities.
Those already conforming may need a reminder of what is expected of them, creating upselling opportunities to higher security shredders and auto-feed technology. For those not compliant, it's a totally new sales opportunity across all sectors – and, don't forget, it's more than just the responsibility of the IT manager. Accountability across the board is now needed following this strict new regulation.
Beyond security, businesses must keep efficiency in mind. Auto-feed shredding technology can save precious working hours and increase productivity – although ACCO's research found that only eight per cent of consumers use this type of solution, making it an area worth pushing with customers. Up-to-date shredding solutions are also a vital part of digitisation, and necessary for the destruction part of the data life-cycle. In fact, Article 17 of GDPR allows individuals the right to have their data erased, meaning businesses must have solutions in place to allow this.
The ACCO Brands research shows that the four key areas where key knowledge gaps remain are:
A general understanding of GDPR and that it also concerns physical data security.
The impact of GDPR on paper management processes.
Understanding different shredder security levels.
Awareness of auto-feed technology.
Dealers can create serious sales opportunities by simply clarifying these areas and helping their customers comply with the new regulation; why not take advantage of this opportunity today?
Research was conducted between 19 and 21 September 2018 by an independent third party. 600 decision-makers for office equipment were identified in each of three EU countries; 500 were defined as SMEs while 100 were corporates.
Don't forget to follow Dealer Support on Twitter!