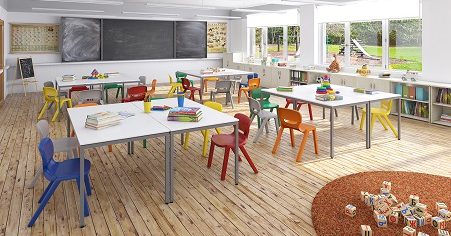 Office Furniture specialist, Dams, has launched its educational marketing support programme through its MyDams online customer portal.
The marketing drive is designed to help dealers maximise sales in the education sector during the peak months of June and July.
The summer shutdown is the best time of year for schools, colleges, universities and nurseries to refurbish and replace their furniture in classrooms, staff rooms and canteen facilities. This is an opportunity for dealers that Dams has already integrated into its product development and marketing programme.
Timing is everything, so not only do Dams have a range of high quality, fit for purpose education sector products available, it has also aligned its manufacturing schedules and stockholding to accommodate spikes in demand in June and July as schools and colleges procure new furniture for installation
Explained managing director of Dams, Chris Scott: "The summer recess is when schools and colleges carry out as much of their essential repair, refurbishment and maintenance works as possible in preparation for the new academic year in September, and that includes furniture replacement and upgrade programmes. Our approach is to support dealers with marketing materials to help them capitalise on this lucrative sales opportunity in the Summer months."
Dams is also committed to helping customers maximise the opportunity by supporting dealers with customisable promotion flyers and literature that they can personalise with their own logo and net prices, making selling into the education sector easier than ever before.
The new A4 product flyers cover a wide range of Dams best-selling products ideal for use in educational settings including Connex bench desking and Vantage tamper proof chairs in a school computer room, Prema operator chairs in a school laboratory, the new Magnum executive range in a headteacher's office, and Ergos plastic chairs in primary school classroom. This is in addition to furniture for school canteen areas including the Slab table & bench, Gecko chairs & tables, and Dams Social spaces products which are perfect for breakout areas.
Chris continued: "The need for quality solutions tailored to meet the needs of education environments is growing, as is the potential to capture a piece of that market. Our dealers can have complete confidence in the efficient supply of a range of products tailored to the end user's needs, and Dams will guarantee that we won't be increasing our prices for the rest of the year – unlike some of our competitors!"
Don't forget to follow us on Twitter.