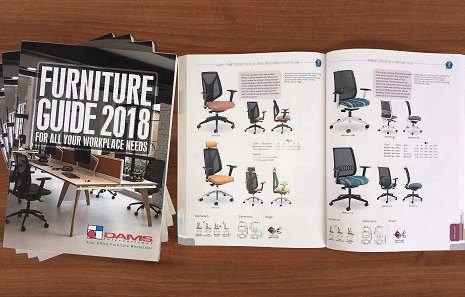 Dams has launched its new Furniture Guide 2018 – its biggest and most exciting catalogue to date.
Fresh, easy-to-navigate product sections are complemented by an unparalleled focus on easing the selection process for customers with innovative content, product specifications, inspirational new product photography and stunning location shots.
Dams product portfolio is more diverse than ever. Contemporary office environments call for stylish design in every aspect of their specification and the Dams furniture collection in their new 2018 catalogue offers all the good looks and aesthetic choices to satisfy the latest trends and the most enduring designs.
The 2018 Furniture Guide is available in an interactive electronic flipbook which allows for easy navigation at www.dams.com. PDF Catalogue sections are also available to view online or for off-line storage.
Explained Managing Director of Dams, Chris Scott: "We are delighted that over 80% of products in our new catalogue are made in the UK using the latest manufacturing technology. This ensures the highest levels of quality and is reflected in the guarantees we offer. The new brochure is broken down into 11 application sections to make it easier for customers to locate different products according to their requirements."
Innovative, new additions to the range include the next generation of Dams height adjustable Elev8² desks, now available in back-to-back clusters and with twin and single motors, providing affordable features and durable design to transform the workplace with healthy flexibility and mass appeal. The best-selling Adapt bench desk range is now available in white tops with oak edging and a modern, stylish black frame option with matching black steel pedestals, accessories and desktop screens.
Chris continued: "All our product images are available to download as individual images or grouped together in a convenient zip file from the dams.com website. The Dams product data, including images, product features and marketing content, is also available via Fusion Data. Please contact our marketing team at marketing@dams.com to find out more."