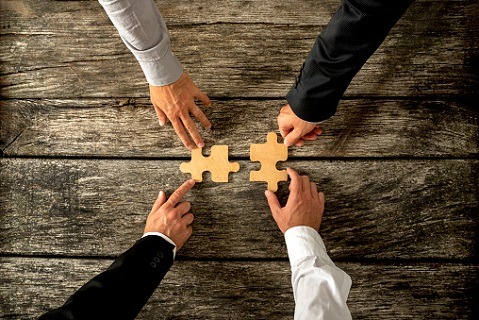 Tim Crabtree, MD of Abbotts, spoke to Nell Walker in May 2018's edition of Dealer Support about the company's 100-year history and the key to its century of success
Not many businesses can say they have existed for 100 years and are still thriving, but Abbotts Office Solutions is among them. The company is celebrating its centenary year having been launched by Arthur Abbott in 1918; Arthur began selling pens and pencils from a shared office in London and grew his business despite adversity – namely having three premises bombed in WWII; at one point he even kept his stock under his dining room table in High Wycombe to ensure its safety!
Arthur insisted that his sons – Mick and Arnold – join the company in 1952, and they moved the majority of Abbotts from London to High Wycombe in 1954. The family's success grew and, 20 years later, a purpose-built office and warehouse were constructed, cementing the Abbotts legacy more firmly in the family's home town.
A much-needed update
MD Tim Crabtree stepped into the business in 1984 as a general manager with no prior experience in the stationery industry, after being convinced by Mick Abbott – Tim's father-in-law. When Mick and Arnold decided to retire, Tim put together a management buy-in with the finance manager at the time and acquired the business and freehold property in 1990. This turned out to be the year in which everything changed for Abbotts.
"In 1990 I bought the Progress system for the company because, until I joined, there were no such things as computers for Abbotts," Tim explains. "We did have one PC, latterly, that was doing some of the accounts work, but it took three weeks to send out statements in those days! So acquiring Progress was a turning point, particularly because 1990 was the worst time to buy a business due to it being the beginning of the last big recession. We used Progress until 2008 when we switched to Horizon and then, in November 2014, we moved to Office Power."
It is Tim's dedication to keeping Abbotts technologically up-to-date which has helped it to thrive. "I've always been of the belief that, to run a business, you have to be at the leading edge – not the trailing edge," he says, which is why he took the plunge and spent £45,000 – a massive amount of money at the time – on Progress in 1990. Without it, Tim believes Abbotts would have died off by now, because the industry has changed so rapidly and businesses wishing to thrive must be making the required changes first rather than last.
Customer care
Despite the technological advancements it embraces, Abbotts retains its dedication to caring for customers. It's still a family business with Tim – a member of the Abbott clan by marriage – owning the majority and various members of his wife's family owning the rest; maintaining good relationships with clients isn't as simple as it once was, but the business prides itself on its customer service.
"When I joined the business, stationery was much more about personalities and knowledge. As technology came along, it was easier and easier for somebody outside the business – with not a lot of knowledge – to start up a company with fewer overheads than we had," says Tim. "It made business in general more difficult but the way that we have retained our customers over the years – and got new ones – is to develop strong relationships with them and work closely with them. I've always said to customers, 'My partnership with you is to help you keep your costs down'."
A close relationship
80% of Abbotts' sales are now made online, but the company maintains those relationships with customers by touching base with them regularly. Tim and his team proactively contact between 20 and 30 customers every day to ensure they're happy and they have everything they need. Whether that's by calling them, or sending a friendly e-mail to check that they're content with the service they've received, all customers will experience the kind of customer service the business works hard to provide.
"We monitor our customer purchases very closely and, when we report on a monthly basis, there are variations up and down where we can quickly see the customers whose spend has reduced. Then we're able to pick up the phone and talk to them," says Tim. "It may be that they're having a quiet time or that they're buying elsewhere and that it's an issue of price, but we can react quickly."
The online experience
Tim has received plenty of high praise for the Abbotts online experience, for which he has Office Power's portal to thank. "The portal Office Power provides is one of the best in the industry, if not the best," he says. One of the advantages of partnering with Office Power is the wide variety of delivery options available to dealers – deliveries directly to customers, key-drop deliveries to the dealers' premises so they can deliver the goods themselves, deliveries to a warehouse or even white-glove delivery service. Tim has decided that for his business it would make more sense to remove a link from the supply chain and deliver to customers directly from the suppliers, an advantage of which is less negative impact on the environment.
"Interestingly, we lost one or two customers because they didn't like that a specific driver wasn't bringing their stationery and dropping it directly into their cupboard," says Tim. However, it was, ultimately, the right move for Tim, who is passionate that Abbotts does whatever it can to lessen its impact on the environment. As explored back in March's edition of Dealer Support, most dealers offer free next-day delivery which can have a negative impact on both pollution levels and profit margins; Tim implemented a 'small order charge' around nine years ago when he realised this was a problem.
"We were aware at the time that customers would pick up the phone as soon as they wanted something," says Tim. "They might ask for a box of pens, which we'd deliver the next day, and the following day they might ask for paper. Environmentally, this practice is very poor and it didn't do much for our profit, either, to be running back and forth three or four times a week. I had a lot of arguments with the sales guys about it and, in the end, I won by unashamedly playing the environmental card. Thankfully, our customers understood it, and drops per customer went down."
As a business which has kept some of its customers close for decades – Tim has a client with whom his company has been working since 1937 – Abbotts understands the industry and what dealers need to do to survive. It knows that stationery is a necessity which runs out regularly and that dealers should be there to help, not pester. "Arthur Abbott said that a business will always needs pens and paper – and they still do," says Tim. "There's no such thing as a paperless office – we sell more paper than ever."
Dealer education
Tim's main advice is that customers don't come to you – they have to be found. Every organisation needs stationery and office supplies and there's plenty of business for everybody – provided they can keep up with the times and leading, rather than being dragged along. Abbotts has worked hard to adopt leading edge computer systems as soon as they exist, in order to keep the business fresh and adaptable, and Tim believes dealers have to keep themselves educated in order to be able to educate customers in kind.
"Many years ago I sent myself on an Excel spreadsheet course," he says. "At the time people wondered why but, if I couldn't work Excel now, I couldn't exist!"
So, does Abbotts have another 100 years under its belt? "I see no reason why not," says Tim, "as long as the people who come after me lead rather than follow."
Don't forget to follow Dealer Support on Twitter!