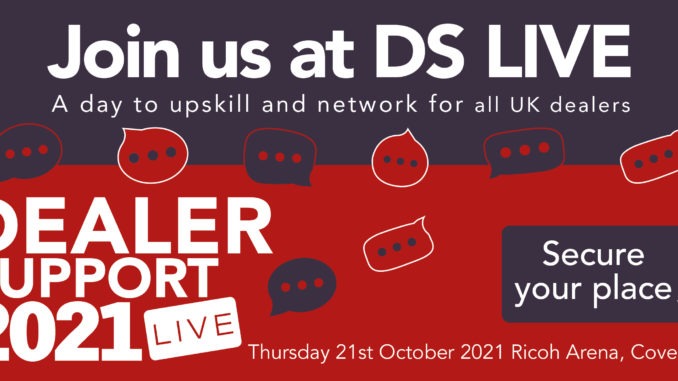 Dealer Support's 2021 event boasts more opportunities to learn via in-depth seminars, an even broader spectrum of exhibitors and an opportunity to network with peers – along with the popular Q&A session for delegates to get involved with
This year's panel includes:
VOW
Focus 7
Independent Software
D3
ACCO
…and Steve Harrop, – our ever-popular compère!
All dealers are invited
The day has been designed to include all corners of the industry; advanced priority tickets are still free (terms and conditions apply) from www.dealersupportlive.co.uk/book. Tickets include attendance to all seminars and talks, the exhibition, lunch and refreshments; the aim is that these added extras make it much more attractive for dealers to take a day out of the office and join us.
A warm welcome
The event will be open at 8:30am for delegates to get their bearings, grab a coffee and have initial conversations with exhibitors before the seminars get going.
Been there, done that, got the t-shirt! Learn from the experts
Seminars will start at 09:15m and 10:15am. These will be a mix of aspirational case studies and practical advice – all of it valuable information for your business. The future is still uncertain; after a year and a half of battling unprecedented challenges, we've come to expect the unexpected and prepare for worst case scenario. As such, we're focusing on championing the success of the dealer in a variety of ways – from managing change to marketing, remaining competitive, learning the hard way and beyond.
Exhibition
See the latest innovative products coming to market; the exhibition will be in full swing between 11:00am and 3:00pm. Be the first to discover what's new, get your hands on it before the competition does, and find out how to convert new products into increased sales.
A tough and treacherous market
Workshops will run at 11:15am, 12:00pm, 1:30pm and 2:15pm. These are quick-fire information download sessions to keep you abreast of what is trending and what you need to be aware of to protect your business.
Q&A
The ever-popular Q&A session will be hosted by our resident podcaster Steve Harrop; he'll pose hard-hitting questions to a strong leadership team comprised of: Steve Haworth, VOW; Vida Barr-Jones, Focus 7; Steve Bilton, Independent Software; Martin Shaw, D3; Mark Wilkinson, ACCO.
Networking

No-one knows the benefits and challenges of running a reseller business better than those who do it. As well as practical learning at the seminars, Dealer Support LIVE is a fantastic opportunity to network with others business leaders in the sector, sharing experiences and solutions and forging long-lasting, professional relationships to benefit delegates and their businesses.
Food and drink
Finally, as with every Dealer Support Live event, you'll be fed and watered through the day. Lunch will be served at 12:45pm and everybody is invited to networking drinks after the Q&A session.
BOOK TODAY
Get your FREE* ticket for 21st October at https://www.eventbrite.co.uk/e/dealer-support-live-2021-tickets-142079157585
*Terms and conditions apply and will be made available at time of booking. Late cancellation and no-show fees also apply. Contact hello@dealersupportlive.co.uk for the full Ts&Cs.