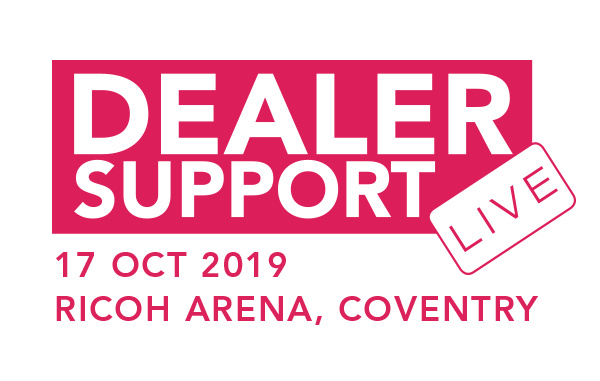 Dealer Support Live is back for 2019 at Coventry's Ricoh Arena on 17 October
This year's event will build on the success of our previous events by delivering even more opportunities to learn, more exhibitors, an enhanced Q&A session and informative seminars.
We, as an industry, must be able to adapt to the situations thrown at us through improvisation, and overcome the inevitable hurdles that we come across in uncertain times. Dealer Support Live is an event that's specifically designed for dealers and provides delegates with the knowledge they need to promote strength and growth within their business.
One of the real strengths of the day is the informative seminars; 2019 will see four seminars taking place in the morning, with four workshops running throughout the afternoon. Here, some of 2018's speakers describe their experiences at Dealer Support Live:
"Although slightly daunting having to speak to fellow dealers about all the things we were doing at Coast to Coast to encourage sales growth, the experience of speaking at DSL18 was extremely rewarding and one I would absolutely recommend to anyone who loves our industry – and who, perhaps, wants to give a little something back. I had so much great feedback from everyone in the room which made it all worthwhile, and I'm delighted that I've able been to contribute something to this great event after attending for the last few years, gleaning information and ideas from the other brilliant speakers from other seminars and bringing it back to my office to put into practice." Matt Stanley, accounts director at Coast to Coast
"I found speaking at dealers support very enjoyable; I think its important to put yourself our there and share knowledge with others in the industry." Richard Lockley, sales director at Superstat
"I was a bit apprehensive talking about macro-economic changes and their impact on our industry, as I am not an economist. Also my predictions of the results of Brexit referendum, the subsequent election, Scottish Independence referendum and Trump's attempts to get in the White House had all turned out wrong. However I was warmly received even though I was pretty much the last speaker near the end of the programme and it had been a full and interesting day. My wife was in the audience and she told me that no-one dozed off, and she was surprised how many had turned out to be there. Plenty of questions showed many had indeed been awake. Dealer Support are to be congratulated on running a very successful event, which was even better than the year before. Thanks for taking a risk on me!" Phil Lawson, former CEO of the BOSS Federation
"Keeping office products top of mind, in the news, up-to-date and sharing best practice is what Dealer Support Live is for me. Having also had the opportunity to present effective marketing to a captive and engaged dealer-focused audience was of huge pleasure, knowing that with a few take-outs and taking a consistent marketing approach can make a sizeable difference to the performance of a business in 2018. In 2019, with more headwinds, marketing matters more than ever and so does the support on offer at Dealer Support. They're a great team and hosting a seminar was made seamless by their excellent communications, clear and timely information – I just had to turn up and focus on the presenting." Marc Pinner, marketing director/consultant, QQM Ltd
Tickets are now available and FREE to dealers. Click here to book!