We've got an expert crew lined up for this year's Q&A panel at Dealer Support LIVE – now, they need YOUR questions.
Joining us on the day are:
Steve Haworth, VOW

Martin Reid, Egan Reid

Mark Heath, Bluefish Group

Derek Jones, Synaxon

Darryl Brunt, Fellowes
And Steve Robinson from Safescan, who is our compere once again.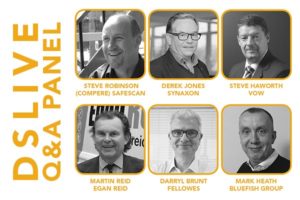 Now, our team needs topics to discuss – what are your burning industry questions?
E-mail [email protected] to suggest topics for the Q&A session, and Steve Robinson will present them to the panel on the day. Don't be afraid to be controversial!
To learn more about Dealer Support LIVE, click here. To book tickets, click here.