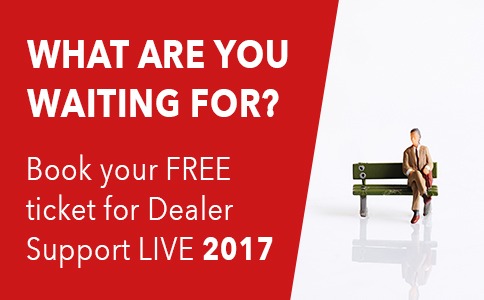 Dealer Support LIVE 2017 is just over a week away – and we thought you might like a flavour of what you and your sales team can expect to learn at the event.
Telephone appointment-making and cold calling
Elaine Land, 4marketing
Telemarketing is a powerful tool; find out if you're using it effectively?
Is your lead-generation strategy effective?
The tried and tested tactics that will boost your business
The most effective cold calling techniques
Email marketing tricks and tips
Simon Wallis & Oliver Gleave, InControl Marketing
Go home armed with all the info you need to boost your email marketing effectiveness
Find out where email fits into a multi-channel marketing approach
Ensure your email marketing complies with the new GDPR deadlines
Grow and develop your business using LinkedIn
Laura Brown & Peter Andrews, Introtweet
How to realise the potential of your LinkedIn account
What works – and what doesn't!
How to leverage underused features in order to stand out from the crowd
Insights from a social media business expert
A focus on business growth
Our popular leadership stream is back for 2017 – and this year we have a number of sessions that really focus on how to drive business and grow your business.
You can expect sessions that present aspirational case studies from your dealer peers, as well as practical advice and valuable information from experts in their respective fields. Sessions are engaging and interactive; a mix of upskilling and discussion – they're an opportunity to find solutions that fit your business.
Here's three examples of the information you could take away:
Diversification and expanded services: selling the new proposition
Gary Naphtali, Anglo Office
Find out why diversification is about more than just offering more
The thinking behind one of the most successful dealers in the country
Why success is about integration across the whole business
Understanding and managing pricing
Mark Heath, Bluefish Office
Why pricing should underpin all your business activities
How to build a clear plan about how to price (and why)
What it takes to gain a real understanding of your pricing and discounting strategies
Beating Amazon B2B
Patrick Donnelly, Evolution Software and Steve Bilton, FusionPlus Data
How to use your data effectively
What tools are available to help you fight the online giants
Why customer personalisation matters
What you need to know to protect your customer base
This is just a snapshot of the numerous sessions taking place at Dealer Support LIVE. Head along to dealersupportlive.co.uk to read more about the day's programme.
The venue
Dealer Support LIVE 2017 is returning to Leicestershire and the fabulous Jurys Inn Hinckley Island Hotel. The venue is easily accessed by road, no matter which direction you're coming from. It's just a 20-minute drive from Coventry, a 25-minute drive from Leicester and a 30-minute drive from Birmingham city centre.
Ticket info
To simplify the process – and to make it as easy as possible for as many dealers to attend as possible – we've made advance tickets for this year's event FREE*!
Get yours at: www.dealersupportlive.co.uk 
All tickets include attendance to the day-long event, exhibition, lunch and refreshments.