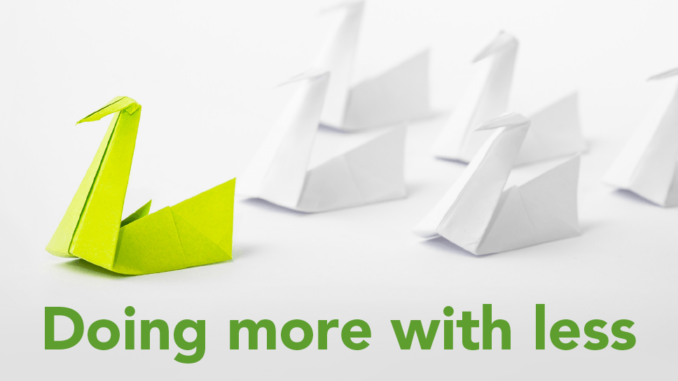 [Sponsored]
Less is more…
The world of paper is changing, but – never fear – the 'paperless office' is far from a reality. While discussed for decades, what we have actually moved towards is a 'paper-lite' office environment, wherein workers and businesses are much more aware of the quality and environmental benefits of office products.
Discovery paper uses less wood than other 80g.m2 papers for the same amount of end-product, and creates less waste. Additionally, with Discovery's 75g.m2 paper, the number of delivery vehicles required is reduced by more than five per cent, and over 10% for 70g.m2.
Discovery paper is eco-efficient, made from eucalyptus globulus fibres which provide smooth, non-stop performance. The actual weight of paper is irrelevant when it comes to paper performance – it is its stiffness that enables is to run at its smoothest.
The fibres used to create Discovery paper boast greater thickness and stiffness than most 80g.m2 papers, while remaining lightweight and with high runnability.
All this makes Discovery the most eco-efficient use of wood fibre for paper and paper-based products.
Did you know?
Forests managed by The Navigator Company account for a carbon storage equivalent to the emissions generated by 1.2 million cars each driving once around the world. A box (five reams) of Discovery stores the same amount of CO2 as emitted by a diesel car driving for 100 miles. And the benefits don't end there!
Opacity
High opacity means higher suitability for duplex printing, making information, graphs and images extremely legible on both sides of the sheet.
Whiteness
A greater degree of whiteness allows for more vivid colour and high-definition contrast.
Thickness and stiffness
Thicker and stiffer paper means no paper jams and a lower likelihood of paper curling or jamming.
Smoothness
Smoother paper improves toner adhesion and ink absorption, optimising the consumption of comsumables and extending the overall lifetime of office equipment.
Being ahead in life and in business is all about efficiency and sustainability, by doing more with less.
Don't forget to follow Dealer Support on Twitter!