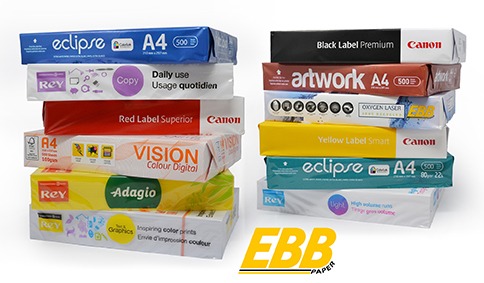 Sponsored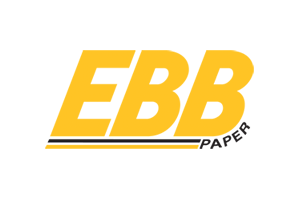 Elliott Baxter and Company Limited (known as EBB Paper) is the leading independent paper supplier in the UK. Our nine modern storage and distribution centres cover the whole of the UK offering free next day delivery into your warehouse. Our policy is to stock paper in significant depth locally to customers, offering maximum choice with unrivalled delivery.
At Dealer Support Live we are promoting our huge range of cut size paper and card in white and tints as well as extensive label and envelope ranges. You will find our staff knowledgeable and enthusiastic about our products; they are able to give advice on stock suitable for your specific needs as well as making suggestions on improving the performance of your printer by using the appropriate media.
We offer leading paper brands including Adagio, Navigator, Eclipse, Rey and Canon in a variety of weights and sizes that are all either FSC® or PEFC certified so you can be sure of their environmental credentials. We also have a 100% recycled option that is suitable for all high volume and desktop laser and copier machines – come and ask us about Oxygen Laser!
Our range of labels includes a variety of sizes and shapes as well different colour face materials suitable for use on most laser, inkjet and copier machines and we're confident we can meet your labelling needs. Similarly, our stock envelopes cover a multitude of options consisting of 28 products ranging from tiny invitation envelopes (94 x 143mm), to C4 pocket envelopes. In total there are eight different sizes, various sealing options and some with windows – other sizes, shapes and colours are available, please enquire.
Formed in 1922, the family-owned company is now into its fourth generation of Elliott ownership and management and, as we head towards our 100th year in business, we are looking to the future and believe our approach to stock and delivery as well as experienced, enthusiastic staff give us an edge over other paper suppliers.
We look forward to welcoming you to our stand at Dealer Support Live where we will have samples, swatches and brochures available for you to take away. 
Don't forget to follow Dealer Support on Twitter!