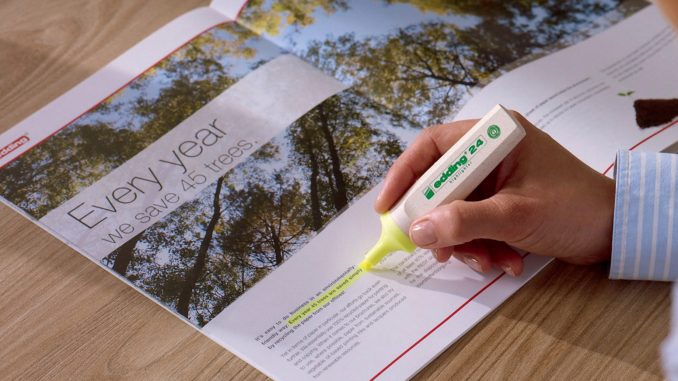 edding has been awarded the Blue Angel ecolabel for its environmentally-friendly pen – the edding 24 EcoLine highlighter. This prestigious award has never been given to a marker pen before, due to the extremely strict environmental criteria.
The Blue Angel ecolabel initiative has been supported by the German government for 40 years, designed to protect the environment and, in particular, to make it easier for consumers to make informed purchasing decisions. Anyone using products or services bearing the Blue Angel ecolabel can be sure that they are acting in an environmentally-friendly, sustainable manner whilst helping to create the world of tomorrow.
To be considered for this award, products must meet the requirements of numerous checks. Alongside being able to fulfil the intended function to a high level of quality, the product must be made in a resource-efficient, environmentally-friendly manner, have a long service life, contain no substances harmful to health and be easy to recycle.
"We are absolutely delighted that our highlighter has been awarded this top-class label, and we hope that, through this product, we can play a part in preserving resources," commented Per Ledermann, chairman of the management board at edding AG.
Don't forget to follow Dealer Support on Twitter!