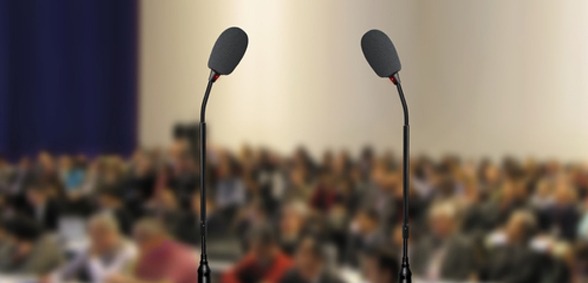 By Karen O'Donnell, Toastmasters International
A presentation provides you with an opportunity to sell your product, service or message to an audience. It's an opportunity to engage with potential clients and a well-crafted presentation can lead to more business success.
Whether we have a product, service or message, we are selling something. With great presentations, the secret is to grab your audience's attention at the beginning and keep them engaged until your final word!
Here are eight suggestions to help you make more sales at the end of your presentation.
Prepare, prepare, prepare!
Frequently clients will contact me, overjoyed that they have secured a slot with a prospective client's to deliver a sales presentation. All too often speakers put a lot of preparation into securing the pitch and little thought into the actual presentation. Yes, this is a moment of celebration, but there is still a lot of preparation to be done.
Action: The preparation may well involve hiring a speaking coach to help you create a professional presentation so you close the deal. Once you have your presentation written, put some time into practising it. Practise with a colleague or coach. Don't use your clients as a way to practise! By putting in this preparation, you will hit your target and close more deals as a result.
'One-size fits all' presentation
You have secured the sales pitch – so this is NOT the time to pull out the generic presentation. It's very easy to spot the novice speaker; they give a dull presentation and they rattle through it with no audience engagement. At best it's boring, at worst its rude and risks damaging to their own brand.
Action: Research your customer beforehand and become familiar with their business and the industry in which they operate in. Research their competitors and if possible tailor your presentation to demonstrate how your product or service can help them gain a competitive advantage. Choose material that is relevant to your specific customer.
Technical data
If you were selling a food mixer, you would not sell it on its speed and versatility alone. You'd sell it on its benefits – how it makes life easier, will save you time when cooking, and will open up a whole new range of recipe options. People want to know what's in it for them – not what the technology is or does.
Action: Don't sell the features, sell the benefits. With our food mixer, you might mention 'it can create amazing birthday cakes for that special celebration', or 'you will be viewed as an amazing cook for those dinner parties'. You create a picture that the likely 'buyer' can imagine and also appreciate
Slides
Frequently, clients contact me and say; 'I have a PowerPoint presentation and now I need to figure out what to say to go along with the slides.' This is a common mistake which ruins many business presentations. Firstly, you need to create your message, develop your presentation – and then consider whether you need the slides to help you get your message across. Not the other way around,
Remember; if your audience can get all the info they need from the slides, then you are not required. Don't make yourself obsolete.
Action:
Remove the slide if:
It is just to entertain the audience
Acts as a prompt to the speaker
Keep the slide when:
It helps clarify your audience's understanding of your message
Data or Stories?
Many presenters include lots of data in their sales pitches. It's a common misconception that lots of supporting data will 'impress' the audience. Every company has wonderful stories – so explore those how you can portray the data in a story. When you evoke emotion, you awaken thought. People make decisions based on emotions and then follow it up with logic.
Action: Connect with your audience through stories. Select stories that will resonate with that particular audience. Once you engage with them, they can look at the data at another time, if they wish.
Handouts
Many speakers distribute handouts at the beginning of their presentation, however this can result in the audience flicking through the paper and focusing on the handout, instead of focusing on your well-crafted presentation.
Action: Instead of distributing handouts, create a unique URL page on your website for this particular group and in it put all the resources from your presentation that they require. This again adds the personal touch and shows how you can go that extra mile – as well as encouraging people to visit your website.
Where to place the sales aspect of your presentation
We have all been there; sat through a presentation waiting for the inevitable sales pitch at the end. The speaker changes energy; takes on the 'Del Boy approach' of their chosen field and hits us hard with the sales. How does that make you feel? The close of your presentation is NOT the time to start selling.
Action: Sales starts from your introductions so specify a 'pain point' that your audience is facing. You could start with a question; 'wouldn't you like to have more commitment not just compliance from your team?' having identified their pain use your presentation to offer the solution. Pepper your talk with service or product benefits. If done correctly, towards the of your presentation, they will want to hear how they can get your solution, so give them their next step in order to achieve working with you.
Q&A section
Surely this goes at the end? People remember best what they hear first and last, and if you leave Q&A until the very end, someone could throw you an awkward question and create a negative atmosphere. This could be your audiences' lasting impression of you, your company and your product or service. Your final message must be the absolute final words they hear. Skilled presenters never finish on a Q&A.
Action: Tell your audience at the beginning of your presentation that you will be taking questions towards the end. This stimulates them to think of questions as they understand they will have an opportunity to ask them. If you do not let them know early on, you'll be stuck with silence once you ask what questions they have.
For example, I usually say, "We'll have time for some questions towards the end of this presentation and then I will give you my final message on this topic." In this way, you are also letting your audience (and the event organises) know that the Q&A session is not the end of your presentation.
Finish with a bang. Tell a personal story which describes the benefits of the product or service to your audience or a solution to the pain you mentioned in your opening. End your presentation by referring back to the opening and let this be your 'call to action'.
Remember, every speaking engagement is your opportunity to get your brand known. Take on board these tips and your next presentation will close more deals for you. By crafting captivating presentations, you will become the go-to person in your field.
Don't forget to follow Dealer Support on Twitter!