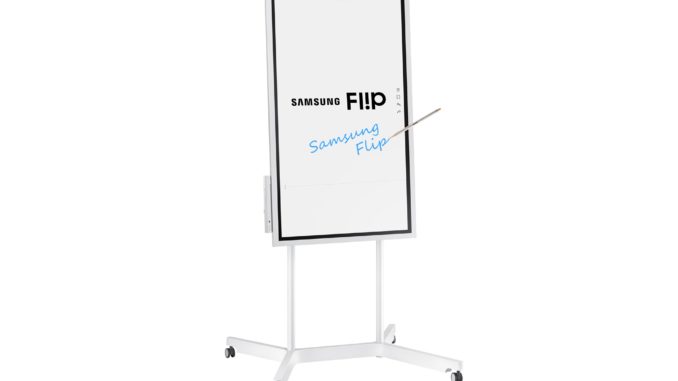 Exertis has announced that its exclusive agreement with Samsung for the Samsung Flip is gaining traction with resellers due to its competitive pricing, features, functionality and promotional support. The 55 inch Flip display is a digital replacement for the traditional whiteboard and flip chart, appealing to SMEs and enterprises in a variety of vertical markets.
"The Flip, with its versatile orientation, aesthetically pleasing design and mobility, is proving to be an ideal product for the modern workplace as companies embrace collaborative working for their teams and make better use of business meeting spaces. With its intuitive, user friendly navigation and connectivity to various external sources and devices, it has comparable features to more expensive, competitive products," said Ian Neale, Exertis Medium, general manager.
Exertis can support resellers by offering demo units, a try and buy scheme and a 'buy one get one free' offer for registered resellers. It also has dedicated resource for the product.
"We have some great incentives in place, providing real opportunities for resellers to help their customers take advantage of the product. Interest from both our AV and IT resellers has grown both in terms of revenue and customer breadth, increasing by around 20 per cent," added Neale.