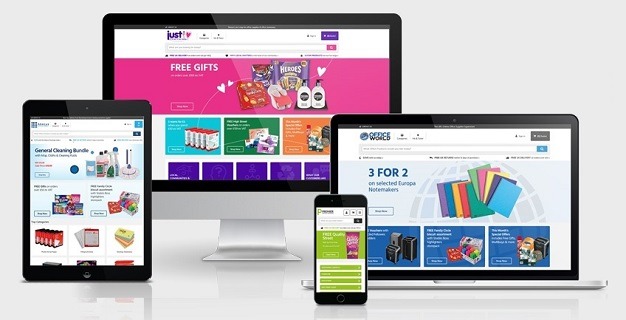 Richard Sinclair, Product Director at Office Power, discusses why dealers can't afford to ignore responsive web design
In the office supplies industry, and especially in the world of B2B, mobile has always been seen as a channel that is under invested, and it is still true today that our industry under-indexes in mobile traffic in comparison to other e-commerce industries.
However, changing customer purchasing habits, along with Google's mobile first strategy, means it is now more important than ever for office supplies dealers to have a responsive e-commerce web design solution.
To put it simply, responsive web design – or RWD – is a design used to create a website that instinctively adapts to the device it is being viewed on, so it looks great and is easy to use on a mobile, tablet and desktop.
Here are the five key reasons why it's time to embrace responsive web design
1.       More people are being influenced to shop online and across devices
It's mentioned a lot in the world of user experience design, but there really is no longer such a thing as a single channel purchasing journey. Customers might have a preferred shopping channel but they don't interact exclusively through that channel any more. Instead, they are often influenced or have researched their purchasing options across several channels before they buy. To compete in the office supplies market in the future, dealers must be able to start a dialogue or transaction on one media and continue it across others, ensuring they have a strong brand presence across all channels.
2.       Search Engine Optimisation
At Office Power, we keep a constant eye on the latest Google announcements to ensure our partners' websites are optimised for local search traffic. One of the trend analysts at Google recently announced that it plans on releasing a separate mobile search index, which will become the main or 'primary' index that the search engine will use to respond to customer queries. What this means is if you are not optimised for mobile your desktop rankings could be effected, leading to reduced traffic to your site and reduced brand reach. So, if you haven't made plans to move to a responsive web design solution yet, you really should be thinking about overhauling your shop window soon.
3.       Save time and money
Responsive web design (RWD) means you only need to create a single website, rather than individual sites for your desktop and mobile. This can save you significant design costs and reduce the time and money you spend on website maintenance and content creation. 
4.       Speed & Performance
Google has updated its algorithms to factor mobile page speeds, which again will affect your keyword rankings and brand awareness. With a responsive solution, your website will be structured in the most efficient way possible with no need for complex redirect and device look up code, which will always slow down your website performance. Test how well designed your website is and check out the Googe Page Speed Insight Tools.
5.       Futureproof your business
Office supplies dealers have to compete not only with other local dealers, but with online retailers and giants like Amazon Business. Office Power's dealer partners get, on average, 40 per cent of their sales online, and mobile traffic nearly accounts for 10 per cent of global traffic across the group, and this is growing each year. Therefore, it's crucial to continue to optimise all online channels and take every step you need to ensure your customers can easily find you online. As mentioned before, there is no such thing as a single channel purchasing journey, and your website is your 'shop window' in the online world, so it's important you future-proof it for all new visitors.
According to Google, on average, 56 per cent of all their searches are now performed on mobile devices and this number is growing. Over the past 12 months, Office Power has invested a huge amount of time and resources into redesigning a completely responsive solution for its dealer partner websites, with user experience at the forefront of the new design, and they are already enjoying all five of these benefits.