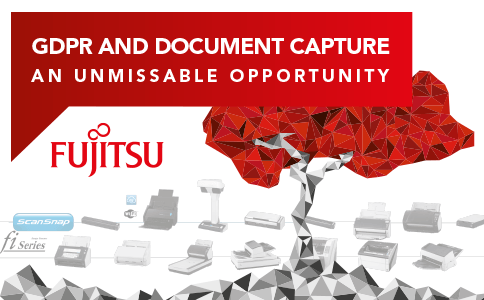 The May deadline for GDPR compliance is rapidly looming into view – driving demand for scanning and document capture solutions. ANDREW COWLING, business development and channel marketing specialist at Fujitsu, tells AUSTIN CLARK more about the opportunity.
The EU General Data Protection Regulation (GDPR) is a hot topic for organisations of all sizes – and, with the 25th May deadline looming, boards, business leaders and IT teams alike are, no doubt, frantically trying to make sure their business processes are in order. And with good reason – compliance failures can lead to fines of up to €20m or 4% of annual turnover.
By the deadline businesses must have established GDPR-compliant policies that allow effective processing of personal data. Andrew Cowling, business development and  channel marketing specialist at Fujitsu, says this, essentially, involves being able to answer the following seven questions:
1. Right to access – can you find all the data you hold on an individual?
2. Retention periods – do you know how long you can lawfully hold the data for?
3. Data erasure – are you confident that the right of an individual to 'be forgotten' can be met – and that every single trace can be removed?
4. Privacy by design – are you building-in security steps from the outset?
5. Security – how many copies of your documents exist?
6. Consent – do you have consent to hold the data and how will you use it?
7. Audit trails – GDPR is not just about being compliant – it's about proving it in a court of law – can you confidently prove your processes are lawful?
DEALERS TO THE RESCUE
The good news for dealers is that they are well-placed to guide customers through the GDPR journey and help them become compliant – especially by leveraging the support available from Fujitsu. "Fujitsu is the leader in the imaging market so we're best placed to identify the business trends and industry drivers that create new opportunities for dealers," explains Andrew. "We have indepth knowledge of how scanning and document capture can help organisations achieve GDPR compliance and are working with a
number of partners to provide professional support and establish GDPR-related strategies and clearly-defined processes relating to how to detect and react to data security flaws."
THE IMPORTANCE OF SOFTWARE
When it comes to achieving GDPR compliance the starting point recommended by Fujitsu is to conduct an assessment of relevant data held today, and where it resides, starting with the digitisation of paper-based documents through scanning and merging with digitally-born material. "As I mentioned in the December issue of Dealer Support, paperbased documents are more prone to human errors of misjudgement and can, very quickly, get into the wrong hands," comments Andrew. "Scanning allows organisations to take complete control of data by scanning, digitising and working online. Once documents are scanned they can be filed in a multitude of places, whether on a network, in the cloud or on a local PC. "Fujitsu's range of scanners covers the full range of personal, compact, desktop, slim, portable devices or larger, departmental and production scanners – which means that, together with dealers, we can help organisations of all sizes with their document capture needs. However, when selling scanning solutions, it's about more than hardware; specialist software really comes into play here – and this is a real opportunity for dealers to further grow business and help customers. "Fujitsu offers a portfolio of capture software designed to leverage and optimise what is most important in doc ments – the data. From a GDPR-specific perspective we've partnered with EASY Software UK, whose sister company, OtrisSoftware AG, has been working on privacy management solutions over the past 12 years in heavily regulated Germany. This software makes the identification and management of personal data easier, streamlining data capture and entry points, which makes answering those questions posed above much easier. In addition, access is locked down to only those users with appropriate permissions."
MORE THAN JUST COMPLIANCE
Andrew points out that, while GDPR is a strong reason for organisations to invest in scanning, there are a number of additional reasons for businesses to embrace the move from paper to digital processes "Investment in digital transformation can now deliver savings and efficiencies across the whole business, as well as helping to prepare for
future regulatory compliance," he says. "Legislation can be a powerful tool to drive a cultural change, so let us see GDPR in that light: a chance for organisations to embrace digital transformation."
These benefits include:
• Better organised data, all stored in one place
• Increased storage capabilities with cloud-based servers
• Quicker find and retrieval of files
• Ability to manage data more effectively
• Easier to share information/files between colleagues and across office locations
• Increased efficiencies/time-savings for admin staff
• Increased office space with less physical filing required
• Greater security of data
"Paperless working delivers business efficiencies while helping to achieve compliance with GDPR, so the sales message is a compelling one," says Andrew. "The potential risks associated with GDPR – most notably the fines and damage to reputation – mean businesses simply have to be prepared. When there is commercial upside, and business
efficiency to be gained by becoming compliant, the choice of doing the right thing by your data is a clear one. Fujitsu is there to help dealers capitalise on this opportunity."
HELPING DEALERS
Further sales support is available through the Fujitsu Imaging Channel Program (www.imagingchannel- program.com) which has been designed to help partners:
• Realise the full potential of the imaging and digitisation market
• Sharpen your competitive edge
• Open new doors, close more deals and drive margins
• Connect with Fujitsu's imaging partner ecosystem
• Differentiate your business
Webinars, co-branded brochures and other marketing materials, product toolkits, product selection configurators and even automatic social media content are available. There's also exclusive access to Fujitsu's special promotions and its sales lead pipeline, making it a must-have for all dealers.
Sign up for free at: www.imaging-channelprogram.com
DON'T MISS!
Fujitsu's webinar looks at what GDPR is, what the potential is for you around GDPR and helps you understand a partner solution that you can take to market. Head to goo.gl/eeMxvs
WWW.IMAGING-CHANNEL-PROGRAM.COM
EMEA.FUJITSU.COM/SCANNERS
+44 (0)208 573 4444
SCANNERSALES@UK.FUJITSU.COM