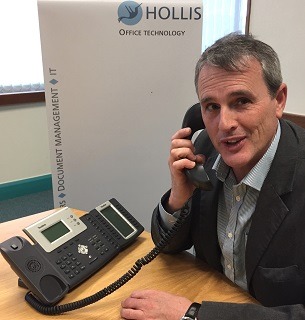 Hollis Office Solutions, the Shropshire-based provider of business support solutions, has expanded its product portfolio with the addition of the latest internet telephony systems.
This further expands the capability of the company which has an established reputation for delivering document management and IT infrastructure solutions to customers operating in both the public and private sectors throughout Shropshire, Mid Wales and the North West.
According to Mark Bamford, General Manager at Hollis Office Solutions: "After recently expanding our IT portfolio with the latest Anti-Virus/IT Security solutions to protect against the rising tide of cyber threats, the new generation of internet telephone systems is an ideal fit for the business. With a rich feature set, including auto attendant, voice mail, call recording, video and audio conferencing and free calls via the data network, the latest internet telephony systems offer significantly more functionality for up to half the price of traditional telephone systems. They also integrate with installed applications such as customer relationship management to enhance service provision."
Elements Europe, the Shropshire-based manufacturer of Room Modules, Bathroom Pods and Light Steel Frame solutions for the construction industry, is one of the company's first customers and has upgraded its existing IP-based telephony platform. Hollis installed BroadWorks Receptionist, an IP Telephony attendant console that provides staff with web browser-based access to traditional switchboard functionality using any internet-enabled computer. With a click of a mouse, users can answer and route incoming calls, distributing them to the required destination. They can also see the real-time status of all inbound/outbound calls as well as calls currently on hold to ensure all communications are efficiently managed. Callers can also be seamlessly transferred to field-based staff or employees working from home or at other locations.
Commenting on the new system, Bryce Roberts, IT Manager at Elements Europe said: "Although we were already using an IP-based telephony platform, we wanted to improve the way that the system was managed and access information showing all current telephone activity in real-time to ensure the provision of the highest level of service to every customer. We have been impressed by how Hollis quickly grasped what we were trying to achieve and recommended a solution that met all our requirements as well as providing a fast, efficient and personalised level of support at all times."
Hollis Office Solutions is providing Elements Europe with a fully managed service to ensure that the system operates efficiently around the clock. This comprehensive service includes access to a telephone-based support team, configuration changes, software updates and any required training during normal office hours.
"We are committed to meeting the evolving needs of our customers and believe that traditional office telephone systems are destined to disappear as more organisations take advantage of the advanced communications functionality offered by the latest IP-based telephony platforms," concluded Bamford.