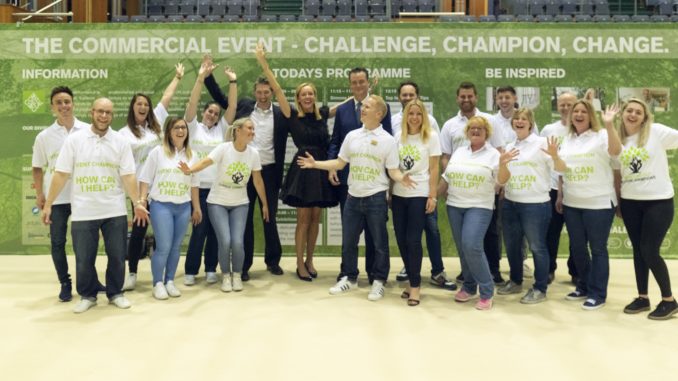 Commercial recently hosted a CSR event – Challenge, Champion, Change – marking the latest phase of its sustainability journey and helping more than 400 delegates take action within their own organisations.
With headline speakers including designer Wayne Hemingway and environmental entrepreneur Ed Gillespie, the event covered the full spectrum of social, environmental and economic sustainability. Commercial also launched a new initiative focused on reducing single-use plastic in the office supply chain through collaboration and innovation.
The event itself was entirely plastic-free, with exhibitors encouraged to avoid printed documents and giveaways in favour of assets that could be collected via a digital platform.
Delegates were updated on the ongoing success of Commercial Foundation, established by the business to provide opportunities for disadvantaged young people. It is also supporting Commercial IT Services' 'managed IT with a conscience' activity, upgrading equipment for redeployment via charity IT Schools Africa.
A panel debate saw MP Alex Chalk, Anna Ma from Sky's Corporate Affairs, Bigger Picture Team and Michele Cahn, Xerox's VP of Global Government Affairs, Sustainability & Citizenship, discuss corporate sustainability issues with Commercial and the speakers.
"Sustainability is both a business and societal imperative," said Cahn.
"Organisations need to develop proprietary approaches that drive measurable environmental and social change, demonstrating effective governance, leadership, and economic benefit. Commercial's CSR event provides a valuable discussion forum for like-minded individuals and organisations.
"Similarly to Xerox, sustainability is Commercial's way of doing business, and we're proud to be a partner as we jointly strive to maintain the highest standards for preserving our environment and contributing to a sustainable world."
This was the 11th CSR Day hosted by Commercial. MD Simone Hindmarch said sustainability issues are just as complex as they were a decade ago, but she was encouraged to see such a strong appetite for change amongst the delegates.
"There's no doubt about it, organisations need to transform the way they operate to properly tackle the many conflicting sustainability issues that we face today.
"However, what really struck me at the event is that people want to make a difference. They didn't need to be persuaded to change – they came along to find out how they can change, and how more of us can work together to make it happen. I can't pretend it's going to be easy, but we're determined to keep on raising the bar and chipping away at the bigger challenges. It was really encouraging to discover that so many of our customers and suppliers feel the same way."
Anyone interested in donating equipment to IT Schools Africa via Commercial should contact [email protected]