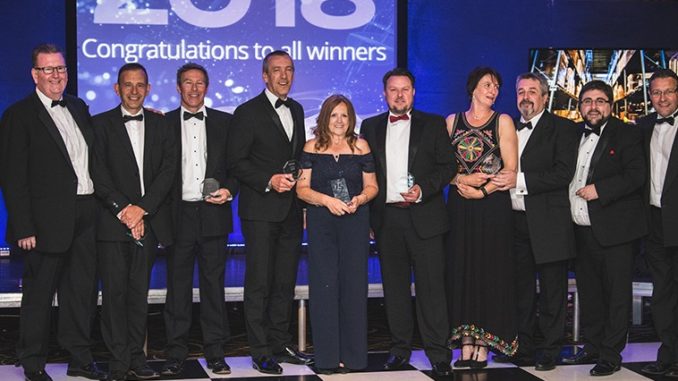 This year's Nemo Refresh '18 conference revisited the Forest Pines Hotel and Golf Course in Lincolnshire, and once again demonstrated the solid community Nemo has.
The magic formula
The weekend saw over an 85% attendance from full members, plus a good number of the group's evolve members and a huge turnout from exhibitors for a convivial and productive weekend.
Nemo members turned out in force to support their supplier partners. The annual golf tournament started proceedings followed by afternoon activities, cocktail making and laser tag, which were both sold out.
Paul Wilson from Kenco Coffee praised the superb atmosphere in a relaxed environment and: "how easy it was to talk to members who want to adapt to the changes faced in the office products world. It is amazing how much can be accomplished over a great cup of coffee."
A festival of entertainment
On Friday evening, the room was adorned with festival decoration, tents, hay barrels, flower power, temporary tattoos and fancy dress galore as everyone competed to win best costume. The night was complete with live entertainment from two fabulous cover bands, The Floorfillers and Audio Stars, after a generous buffet.
Saturday morning saw members get expert advice on the opportunities in packaging from Ian Whitcombe of Antalis, and followed by how the sales role will adapt, with an insightful talk from BOSS CEO Philip Lawson.
Who's who in the zoo
Members and suppliers were then treated to an immersive and interactive keynote by renowned speaker Nigel Risner, who inspired delegates to become zookeepers and recognise different ways of working within each company's 'zoo'.
Business continued with the exhibition, which boasted an impressive 43 stands. The exhibition atmosphere was positive, whilst Twitter was inundated with photos, welcomes and stand prize winners.
Cricketer quips
The event finished in style as the gala awards and dinner took over the hotel on Saturday evening, where guests enjoyed a luxurious three course meal at the black-tie event whilst entertainment was provided by fantastic soul and Drifters cover band, Soul Kinda Wonderful, followed by legendary England test cricketer stalwart, Geoff Miller, who held the room with his wonderful dark sense of humour and fascinating exposure to life as a top sporting professional.
David Vaughan, Instant Stationery Traders praised a fantastic occasion and the venue perfect. "The exhibition and theme went down well and we spoke to many members. The evening meal was very good and didn't need to discuss business as that had been taken care off. The guest speaker was very funny and as a former league cricketer it was quite nostalgic. The band was incredibly professional and made my night, I certainly danced the night away."
Attendees were very generous with their fundraising for Nemo's chosen charity: Cancer Research UK raising over £1350, with Richardsons Office winning a bid for a signed Joe Roots cricket bat with a generous bid of £400.
Before the prestigious awards were announced, there was special recognition for Richard Brown and Tina Russell of Nemo, both celebrating 15 years with the company, receiving a standing ovation from the audience.
The 2018 Gala Awards followed, recognising the achievements throughout the year.
The winners
This year's winners were:
Best New Product – Treewise Pencils

Best Stand of Show – Vow

Vendor of the Year – Dams

Office Style Award – Zizzoo Stationers

Merchant of the Year – Antalis

Dealer Excellence Award – Fairway Office Supplies
A successful weekend
Tim Beaumont, Nemo MD congratulated all the winners on the night and thanked all the delegates, Nemo members and staff who helped to make the weekend such an enjoyable, successful and positive one.
Steve Blowers, Vow praised the event: "A thoroughly enjoyable and well organised event with a mixture of thought provoking content, engaging speakers. A busy exhibition with dealers wanting to grow their business with suppliers mixed up with lots of fun from a bunch of lovely people in a superb conference venue."