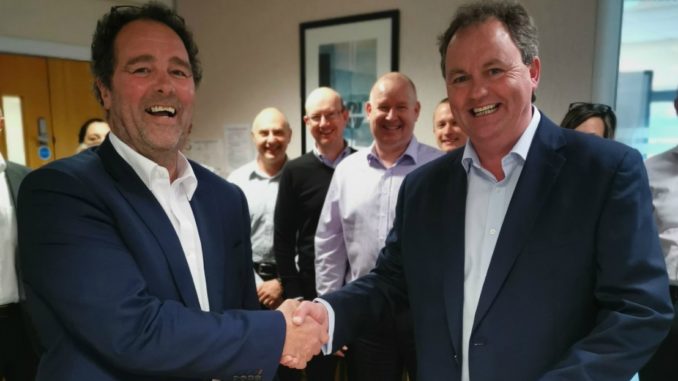 Integra Business Solutions would like to congratulate CEO, Aidan Mcdonough, on his 25 years of service at one of the industry's leading dealer groups.
Mcdonough joined National Dealer Alliance (NDA) in May 1994 and following its merger with Instat in 1997, became group marketing director of the newly formed dealer group, Integra. In 2007 Mcdonough took up the role of MD, subsequently becoming the group's CEO. He has also represented the independent dealer channel on a global scale as chairman of BPGI since 2015.
Deeply passionate about the independent dealer channel and having devoted over 25 years to supporting members, Mcdonough has been firmly at the helm of Integra taking it from strength to strength and achieving numerous accolades along the way. Mcdonough was also pivotal in the successful remodelling of Integra to a co-operative group in 2015 which saw it return to a 'not for profit' organisation and owned by its members.
He commented: "Having spent 12 years as CEO and another 10 years as marketing director, it is an honour to reach this milestone. I have been lucky to work with a fantastic team of professionals who have been dedicated to delivering service and support to the independent dealer community.
"Despite all the technological changes in our industry, I still believe we are a 'people' business and on that basis have formed incredibly strong relationships with our members, wholesalers, technology partners and suppliers, all of whom I would like to thank for their continued support. I would also like to point out that, at only 51, I am not done just yet!"
Integra's chairman, Carl Dovey, added: "Integra is very fortunate to have such a professional and well-respected CEO. Aidan works extremely hard for the group and its members, initially as the marketing director and now as its CEO. This 25 year achievement shows his dedication not only to Integra but to the office products sector in general. Aidan is a great asset to the business and has been instrumental in the groups' growth and strategy over the years. I hope we have the pleasure of working together at Integra for many more years to come."
Looking to the future, Mcdonough continues to have ambitious plans for the group with consolidation and diversification remaining central to Integra's strategy for 2019 and beyond.
Don't forget to follow Dealer Support on Twitter!