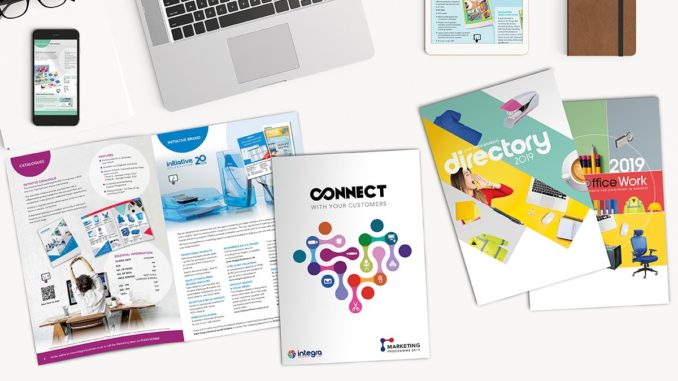 Integra has launched its 2019 Connect marketing programme.
The traditional office products environment has changed radically over recent years and, to help members grow and diversify, Integra has created a diverse marketing programme that enables dealers to break into different markets, generate new accounts and connect with customers.
In addition to Integra's all-important and free-of-charge catalogues for members, the 2019 programme features publications designed to maximise sales in key growth areas such as facilities supplies, workwear and PPE, medical supplies, educational supplies and packaging solutions.
Integra's programme also provides members with access to business support and managed services from developing marketing plans and sales letters to email marketing, PR and social media support. Web collateral and digital publications are available ensuring members can adopt multi-faceted marketing campaigns and cost effectively position their businesses as a complete service provider covering a diverse portfolio of product categories.
New for 2019 is a new-look corporate programme featuring a range of corporate brochures focusing on areas such as single sourcing, print services and interior solutions, designed to professionally promote key aspects of a members business. Alongside this, a refreshed design has been released for Insite, a content ready corporate website, which gives members a low cost solution to ensure a strong online presence.
Sian Haskell, Integra's marketing director, commented:
"Our aim is to support members with a marketing programme that provides the right tools not only to maximise sales within an existing customer base but also to generate new business. The focus, however, for this year's 'Connect' marketing programme is helping members to be successful in additional sectors such as education, workwear and PPE, medical supplies and facilities supplies to name a few. We are constantly developing new opportunities with suppliers to ensure members are well positioned to adapt in this ever changing market."
Members are encouraged to attend the 'Innovate for Growth' National Conference on 20th September to find out more.