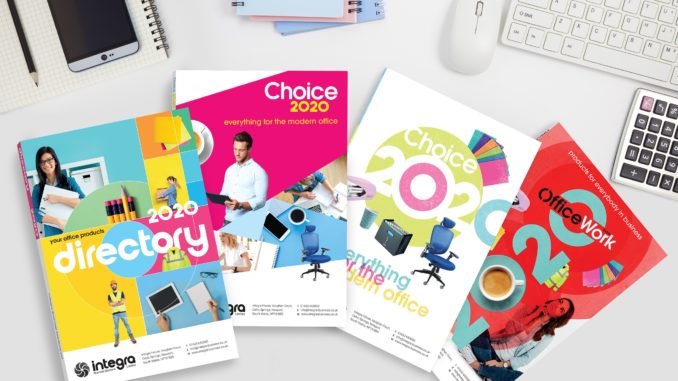 Integra members have received their 2020 office products catalogues together with full support programme and digikits to help maximise impact and to grow sales by highlighting the extensive range and service opportunities available to them
Integra's 2020 catalogues which are free and exclusive to members also incorporate full company personalisation and a choice of cover designs. All catalogues are professionally designed and produced in-house by Integra's purchasing and creative teams using an industry leading catalogue management system.
Integra's most comprehensive catalogue, The Office Products Directory, features over 8,000 quality products covering everything from office supplies, technology and facilities supplies to furniture, workwear, PPE and the award-winning Initiative brand.  A double page 'Business Services' spread also highlights value added products and services members can provide to their customers from promotional products and print, to customised diaries and ergonomic solutions.
Integra's purchasing director, Allison Fishlock, commented: "The primary principle of Integra's office products catalogues is to showcase the biggest brands and best sellers to help differentiate members from their competitors and generate greater margins and sales. A comprehensive support programme is available to members incorporating sales letters, email templates, web banners and social media content to help members launch their new 2020 catalogues together with a product file for all back-office systems and web content data."
Don't forget to follow Dealer Support on Twitter!