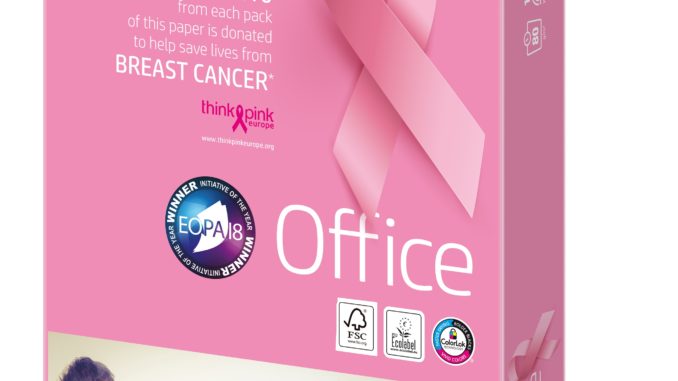 International Paper has announced that it will continue its Pink Ream campaign in support of saving lives affected by breast cancer. International Paper is collaborating with Think Pink Europe, which brings together breast cancer initiatives across the continent.
The Pink Ream campaign was launched in Europe in 2017 with distinctive, specially-designed packaging for reams of HP Office paper. For each Pink Ream sold in the UK, International Paper donated £0.10 to programmes focusing on breast cancer research, awareness and prevention. A total of €198,000 was contributed across Europe and, in March 2018, the campaign was selected as 'Initiative of the Year' in the 17th European Office Products Awards (EOPA) competition.
The HP Office Pink Ream will be available throughout October (which is Breast Cancer Awareness Month). International Paper has again committed to a minimum contribution of €100,000. Of the total amount raised, 80% will be donated to local associations and 20% will be invested in programmes through Think Pink Europe.
Don't forget to follow Dealer Support on Twitter!