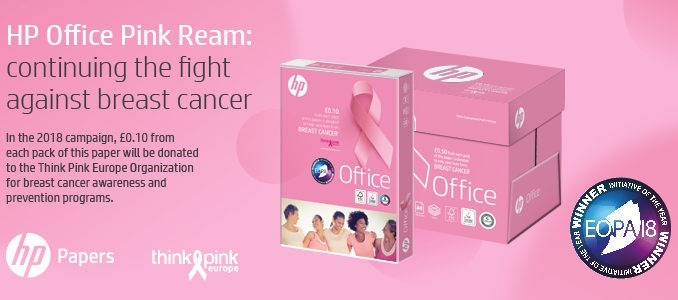 International Paper has entered into its fifth year in supporting the fight against breast cancer with the HP Office Pink Ream campaign in partnership with Think Pink Europe
Since the launch of the initiative in 2017, over €450k has been raised across Europe, with the UK percentage of funds supporting over 200 local, regional and national projects through the support of Pink Ribbon Foundation.
In the UK, 12,000 women die of breast cancer each year, and continued funding into projects is crucial in order to help reduce this figure. Thankfully, breast cancer survival is improving and has doubled in the past 40 years due to a combination of improvements in treatment and care, earlier detection through screening and a focus on targets, including faster diagnosis.
Thanks to The Pink Ribbon Foundation, vital financial support has been provided to a number of UK charities and projects, including:
Littlelifts who deliver comfort boxes to those who are facing chemotherapy. Each box is aimed at promoting emotional wellbeing and so far over 420 littlelift boxes have been provided as a result of a grant from the Pink Ribbon Foundation.
South East Cancer Centre who provide essential wellness therapy including massage, yoga and mindfulness sessions during times of stress and anxiety.
Tenouvs who use a mobile support unit to treat breast cancer survivors suffering with the long term side effects of lymphodema.  The funding has enabled mobile support to continue in the South Wales Valley area.
The Pink Ream is instantly recognisable with its specially designed pink packaging for reams of HP Office paper. This year, the Pink Ream will also be available in HP Everyday 75gsm, a lighter alternative to HP Office which delivers quality, reliability and value, as a multifunctional paper for everyday use.
For each Pink Ream sold, International Paper donate £0.10 to UK programmes focusing on breast cancer research, awareness and prevention. The campaign has previously been honoured as 'Initiative of the Year' at the European Office Products Awards.
The HP Pink Ream will be available to consumers throughout October (worldwide Breast Cancer Awareness Month) and November. The money raised will support a variety of European breast cancer projects through Think Pink Europe. In the UK, a percentage of funds raised will continue to go to the Pink Ribbon Foundation.
International Paper has been manufacturing and marketing the HP Papers brand under exclusive licence since 2000. HP is synonymous with quality, reliable printing performance and innovative advances. The HP Papers portfolio of products offers the highest-quality results across a wide range of office applications.
For more information about HP Pink Ream click here.