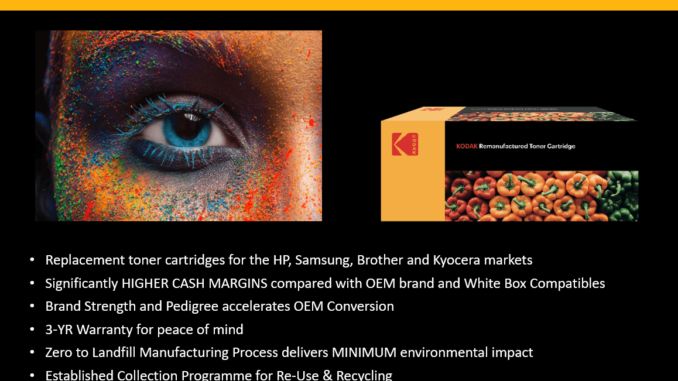 Sponsored
Internet of Printing UK Ltd (IOP) is a young and ambitious company in the printer supplies category. It has been set up to help independent resellers meet some familiar market challenges. Ahead of the Dealer Support Live event we spoke to IOP to get more of an insight in to the why, what and how
According to IOP, the volume of printed documents in the office is reducing and this is pressurising revenues. Fierce competition among resellers compresses prices further which in turn reduces revenues but also pushes down margins. There is increased migration of pages from desktop devices to floor standing devices, which for many, further reduces the accessible market. There is increased OEM direct sales activity and reduced OEM rebates for the channel. Most established wholesalers operate direct business models in parallel with their trade activities. This exacerbates competition and pressures loyalty. There is the ongoing 'Amazonification' of the channel with e-commerce giants taking more and more share.
What support can IOP offer and how is this delivered? It is not a one-size-fits-all approach. IOP believes in the 'stop selling, start helping' philosophy and takes a consultative approach when engaging with resellers. Every reseller is different and while the above referenced macro trends impact the whole channel, each reseller has specific challenges and IOP wants to understand the pain points and then work closely with each reseller to address those.
Value and branding is central to the IOP proposition. Cash margins on OEM printer cartridges are notoriously thin. Non-OEM alternatives were supposed to deliver bigger cash margins. And they did for a time. Today though, there is an influx of white box compatible printer cartridges at very low prices. For many resellers these deliver even lower cash margins that the OEM cartridges.
IOP has secured exclusivity for the Kodak branded range of printer cartridges in the UK and these are designed to deliver high cash margins for channel resellers. It's a simple concept. The brand boasts global recognition and resonates with 58% of the general public. Kodak has a rich history in the world of imaging and is technology driven with a strong reputation for quality. The laser printer cartridges are positioned between 20-40% below OEM delivering users with a meaningful cost reduction, and crucially, a higher cash margin for resellers. The cartridges come with a three-year warranty and are available next day with a drop shipment option available. The entire range is made in the UK.
In order to protect channel margins, IOP is committed to a selective distribution policy that guards against the over-distribution that we have seen with other brands. This means that only a limited number of ARPs (Authorised Reseller Partners) will be appointed and each will be exclusive within a specific post code.
IOP also offers an exciting range of 3D-Printer filaments. These help resellers generate new revenue streams. While traditional document printing is declining, 3D printing is showing explosive growth. It's a new category but the customers are the same. Education, healthcare, engineering, manufacturing, architecture – all these verticals and more – have existing devices that require filaments.
For more information contact IOP at

[email protected]

or call free on 00800 46728266
Don't forget to follow Dealer Support on Twitter!