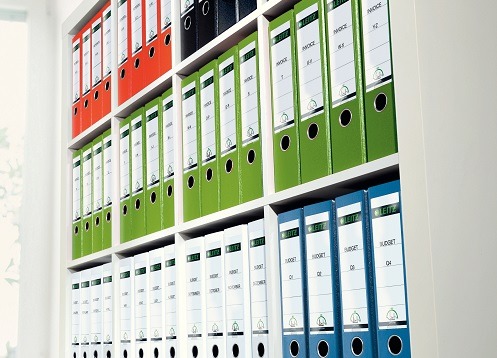 ACCO Brands is pleased to announce the launch of its latest Leitz campaign  "The Art of Filing", drawing attention to the importance of filing and organisation as we enter Q4 and the end of the financial year for many organisations.
In order to help its channel partners maximise the sales opportunities from the end of the financial year period and give them more reason to talk about filing, ACCO Brands is delighted to offer a brand new promotional offer, helping consumers channel their creativity by receiving Derwent drawing and colouring tools when purchasing selected Leitz Lever Arch Files.
Leitz is recognised in the industry for producing stylish, high quality filing solutions. Its goal is to develop innovative solutions for its partners and customers that simply "help get the job done". Leitz's range of Lever Arch Files are perfect for any workspace, whether your tastes are subtle or eye catching, helping busy professionals keep their documents, receipts and financial information organised throughout the year, so when the time comes to file accounts, all the necessary information is right where it needs to be.
Professional filing and storage tools not only make life easier, but can also add a dimension of fun to daily work life. The expertly designed files allow users to work much more efficiently thanks to the patented 180° precision mechanism, which enables folders to have a 50% wider opening and can be filed and emptied faster, helping to paint the perfect picture of an office in complete order.
To help resellers drive sales and increase margins, Leitz has partnered with Derwent to offer customers a creative reward when they purchase participating Lever Arch Files. Included in this offer are Derwent's Unwind the Wilds colouring book, pencil set, watercolours, as well as the chance to get a Derwent Academy Wooden Gift Box and A4 sketch pad. Whether they are an inspiring artist or an art novice, customers can embark on a creative journey with such beautiful and creative gifts.
Elisabete Wells, Regional Marketing Director, UK & Ireland, ACCO Brands EMEA, comments: "Everyone deserves appreciation for their work, we want to honour all achievements with artistic gifts, which is why we have paired the number one lever arch file brand with the number one drawing and colouring brand.
Elisabete Wells adds: "Offering free product incentives on Leitz Lever Arch Files has proven to further engage and incentivise end users, especially in the run up to Christmas, with giftable Derwent products. The simple online redemption process places fulfilment responsibilities solely on ACCO Brands, driving end of year sales efficiently for resellers."
For more information about Leitz's Art of Filing campaign, please go to: http://www.leitz.com/en-gb/promotions/art/