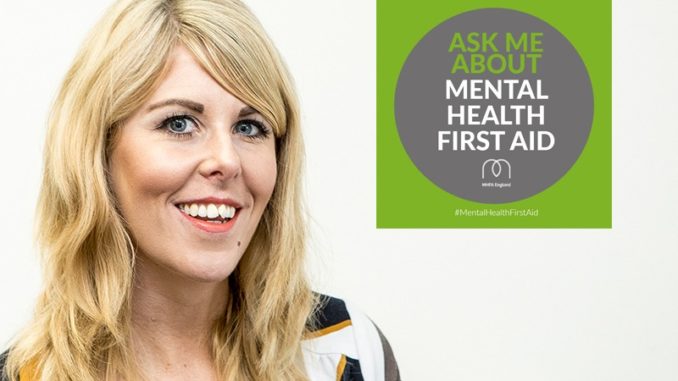 Midshire is proud to announce that three of its employees have completed a two-day mental health first aid training course delivered by Mental Health First Aid England, alongside 12 colleagues from across the country at Sharp Business Systems UK (SBSUK).
The relatively new course aims to educate participants to spot the early signs and symptoms of common mental health issues, and to be able to provide their co-workers with the initial support and guidance they might need to recover from or manage their condition.
A report published by the Mental Health Foundation highlights that every week in the UK, one in six adults experience mental health problems such as anxiety or depression, and one in five adults have at some point considered taking their own life (on average 16 people tragically end their own lives every day).
The estimated cost of mental health to the UK economy is over £100bn each year.
The training was organised through the British Safety Council by Sarah Coates, head of HR at Midshire's parent company, SBSUK, to empower a team across 11 of its regional offices with skills to help support the mental health of the business's workforce.
Coates said: "All over the world we are facing a crisis in mental health, and the statistics are very shocking. Embedding an effective Mental Health First-Aid structure in businesses is paramount to ensuring the well-being of a workforce.
"At Sharp and Midshire we understand the importance of maintaining employee health, both physically and mentally, and the impact that this can have on not just the obvious things like absence and productivity, but on staff morale, and engagement. This is a significant investment from Sharp in our people and demonstrates its ongoing commitment to staff wellbeing."
Midshire's mental health first aiders are Adrienne Topping (Stockport), Kirsty Ravenall and Joanne Palmer (West Bromwich).
Topping added: "For people suffering with mental health issues it can be hard to know where to turn to because so many people just don't understand. Whether it's a professional, a trusted family member or friend, or indeed a trained first-aider at work, it can really help just to talk to anybody.
"There were many things I took away from this training, but for me the stand out issue is around the stigma and with people that don't understand, whether out of deliberate ignorance or an innocent lack of knowledge.
"Start with yourself, try and be empathetic and imagine the support you'd need if you suddenly became afflicted. You can alleviate the stigma simply by being accepting and more open to listening to people. It really is time to talk!"
Don't forget to follow Dealer Support on Twitter!