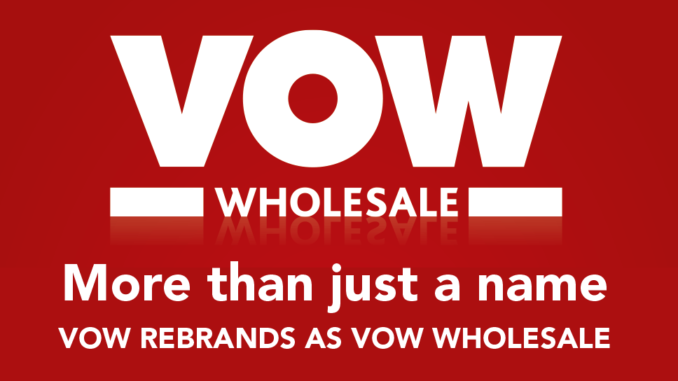 [Sponsored]
VOW Wholesale, Europe's largest business supplies wholesale, has announced a rebrand and refocus of its business.
VOW Europe officially became VOW Wholesale on 1 May – a shift which reflects its fresh emphasis on continued growth and innovation within the reseller channel.
The business provides around 25,000 products on a next-day basis to resellers, and has been proactively expanding into new areas over the past few months in order to more effectively meet the evolving demands of its customer base. In 2018, over 3,000 new products were introduced outside of the catalogue window, with VOW aiming to increase this throughout 2019.
"VOW Wholesale offers a variety of solutions and services to support the growth of the market," says Adrian Butler, the company's MD. "We have recently invested in, developed and launched our Product Conveyor, which gives resellers the ability to launch products as soon as they come to market. We also offer the self-serve Customer Portal, enabling our customers to be more flexible in how they work with us, while our transport management system has been improved."
For Adrian, this is about far more than just a name change. While it was the right time to become VOW Wholesale for the sake of clarity, the real focus is on resellers and supporting their ability to evolve. "The marketplace is growing," Adrian says. "The biggest challenge is in how the resellers profitably retain and expand on their share of this growth – and how we proactively support this."
Beyond all of this, VOW Wholesale is also stepping up its sustainability game. "We have recently invested in new technologies within our Arrow distribution centre," says Adrian. "We now recycle cardboard packaging as void filler rather than using plastics, and we have launched our internal CSR initiative – EVOlution – which consists of four pillars: the environment, our supply chain, our community and our workplace. CSR is another point of focus for VOW Wholesale and is, quite simply, the right thing to do."
VOW is now looking towards a future of ruthless focus on wholesale, meaning that end-to-end service is key: "From supplier range development through to efficiencies at our Arrow distribution centre, and matching industry and reseller needs," Adrian adds.
He continues: "After an incredible amount of industry change over recent years, we've taken a step back to re-evaluate what it means to be a modern wholesaler. We've refocused and committed ourselves to our role as an evolving wholesale business – one that truly understands wholesale and the value it adds to the supply chain in all sorts of ways. That role means we are well-placed to drive success alongside our supplier and reseller partners."
"This is much more than a name change," Evo Group CEO, Steve Haworth, comments. "Functions that were centralised within the group have been devolved, giving VOW Wholesale the autonomy and focus it requires to flourish as a specialist wholesale business – one that truly understands the value of wholesale and is well placed to drive success alongside its supplier and reseller partners."
To support the rebrand, VOW Wholesale has launched a new website: www.vowwholesale.co.uk. The site is designed to aid reseller navigation and ease of use.
Don't forget to follow Dealer Support on Twitter!