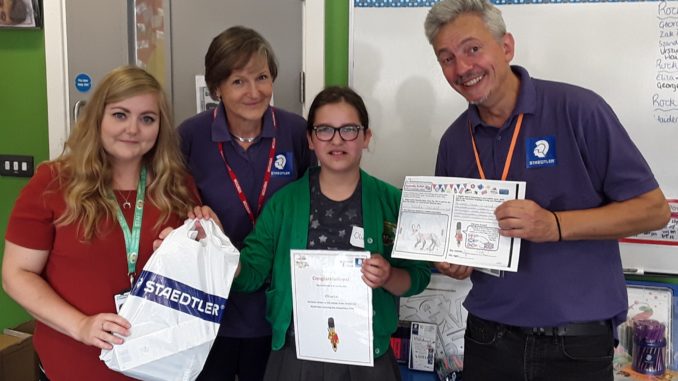 Oliwia Zacny from Forest Fields Primary School in Nottingham has won a national competition run by leading stationery manufacturer, Staedtler.
Oliwia beat all other entries in the key stage 2 category with her picture of a fox in Sherwood Forest, to win the World Kids Colouring Day competition. Over 11,000 entries were counted overall.
As well as Staedtler stationery goodies for herself, Oliwia also won £250 worth of products for her school and an art workshop for her class with British artist and caricaturist, Picasso Griffiths. The prizes were presented during assembly on 23 July 2018, after which Oliwia's class enjoyed their morning workshop. This began with a demonstration of simple sketch and drawing techniques from Picasso before the children had a go themselves.
Oliwia's teacher and Teachers' Club UK member, Keila James said:
"We had a fantastic day! The children really enjoyed it and were buzzing from the experience right up until the end of the day. Picasso delivered a great assembly that showcased his skills and talents as well as encouraging the aspirations of the children. Both children and staff were engaged in the interactive assembly."
Don't forget to follow Dealer Support on Twitter!