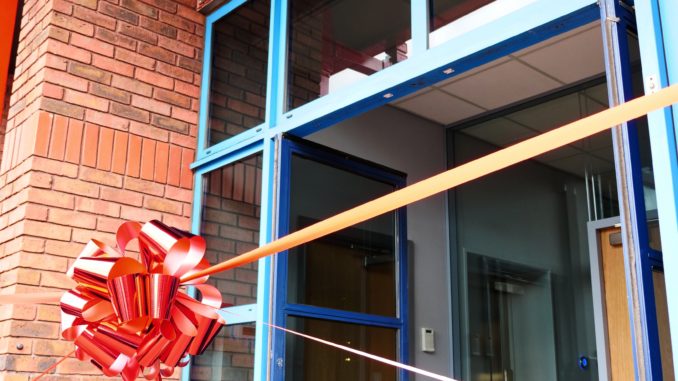 On 1 August, exactly 28 years since first opening the doors of PS Office Supplies (now known as Pro Source) Paul and Serena Musgrove opened nectere's new head office, Nexus House, in Birmingham.
nectere's milestone was marked with an exclusive supplier conference held beforehand, which focused on the future of the business and how growth is at the forefront of the company's priorities. The new offices embody a positive workspace with bright colours, wall murals and breakout areas for staff to relax and unwind by the side of Birmingham's canals on their breaks.
MD, Paul Musgrove, said:
"It's been a momentous day for nectere. Having started nectere only eight years ago, our new home represents our future. We have worked hard to create an environment which our staff, suppliers and dealers can utilise. The downstairs part of the building is a live showroom which shows innovative new product ranges, fully furnished modern offices as well as our bistro with a whole variety of coffee and beverage machines which our dealers can use.
"Not only do we have state of the art meeting and conference rooms, but the new training facility means that suppliers can come on site and train our dealers in their categories, further enhancing sales and productivity.
"Feedback from the staff has been amazing. They love their new workplace; it's surreal seeing the atmosphere in the bistro at lunchtimes and seeing how much closer the new building has brought us as a business.
"Our new building gives us room to grow and add to our already well-established teams. Whilst the robots keep recruitment to a minimum, they've become an important part of our new home too. Every robot has its own desk; they sit within each department and do jobs for us. We could more than double our existing workforce and still have room to grow. Minion murals on some of our walls add an element of fun to the place too. Whilst we're passionate and industry leading in our software and systems, we didn't want to lose our personality and quirkiness; it's just who we are.
"Our dealers have already started bringing their customers on site to show them how some of the beverage machines work, it's great to see them utilising the tools and space here. It was all scoped with them in mind.
"We have been overwhelmed with the support of manufacturers who have supported us in making our offices as equipped as they are. Without them, this would not have been possible.
"The future of nectere is looking extremely exciting".