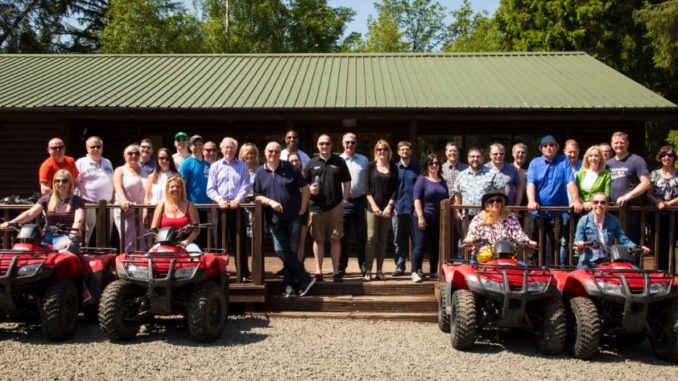 This year's Nemo Refresh conference revisited the idyllic Slaley Hall Hotel, nestled in beautiful scenery in Hexham, Northumberland, and once again demonstrated the solid community Nemo have built between members and vendors.
Business heroes team up
The weekend saw strong attendance from full members, plus a good number of the group's evolve members and a huge turnout from exhibitors, as the group showed its magic formula of bringing suppliers and members together in a convivial and productive weekend.
The annual golf tournament started proceedings, followed by a split of afternoon activities: archery, axe-throwing, segways and the popular blind driving.
"We really enjoyed the family environment of the Nemo community," commented Callum Edwards, Prima Software. "We look forward to the event every year. For us, Refresh is a must attend event."
A room full of spandex
Friday evening's superhero theme overwhelmed delegates; the room was adorned with decoration from life-size replicas of Spider-Man and Wonder Woman, to superhero photo opportunities and fancy dress galore as everyone competed to win best costume. The night was complete with live entertainment from two fabulous performers, Ben Sings and Adam McCulloch, after a generous buffet.
Saturday morning saw members get expert advice on the opportunities in paper from Antalis, followed by how ergonomics is a key area of opportunity from Fellowes and an introduction to Brother's new range of SMB machines.
The perfect day
Members and suppliers were then treated to a superhero team up by renowned speakers Geoff Ramm and Nigel Risner, who inspired delegates to create the perfect day and how key it is to have strong reliable partners they can work with.
Business continued with the exhibition, which boasted an impressive number of stands. The exhibition atmosphere was positive, whilst Twitter was inundated with photos, welcomes and stand prize winners.
Keep flying
The event finished in style as the gala awards and dinner took over the hotel on Saturday evening, where guests enjoyed a luxurious three course meal at the black-tie event. Entertainment was provided by a fantastic band, Groove Central Station, followed by Olympic legend, Eddie The Eagle, whose lovable charm and admirable life story kept guest entertained.
Lee D'Arcy-Jones of Inksolve.com, a member, praised the event: "If increasing business and finding friends within Nemo can be this much fun, we will grab every opportunity to do it again with both hands. Roll on 2020."
Attendees were very generous with their fundraising for Nemo's chosen charity: Alzheimer's Research raising a massive £1,209 on the Saturday night alone.
Recognising the year's heroes
The 2019 gala wwards followed, recognising the achievements throughout the year.
This year's winners were:
Best New Product – All in Box, Brother UK
Best Stand of Show – Spicers
Vendor of the Year – Dams
Style Brand Award – Chariot Office Supplies
Account Manager of the Year – Matt Aldcroft, Dams
Wholesale of the Year – Spicers
Dealer Excellence Award – Paper House Plus
Dealer of the Year – Miles Shepherd
A successful weekend
Tim Beaumont, Nemo MD congratulated all the winners on the night and thanked all the delegates, Nemo Members and staff who helped to make the weekend such an enjoyable, successful and positive one.
Richard Smithers of Spicers, said: "I am always pleased to attend their conference, its informative, professional in terms of business agenda, involves relaxed networking like the golf and activities on Friday, and Superhero themed dinner. Exhibiting at the Nemo's conference is always a pleasure, seeing so many dealers in one place supporting the conference is one of the reasons we attend!"
Save the date for 2020!
Following their recent merger, Nemo and Office Club are delighted to announce they will be holding a joint conference and exhibition next year on 26-27 June 2020.
Don't forget to follow Dealer Support on Twitter!