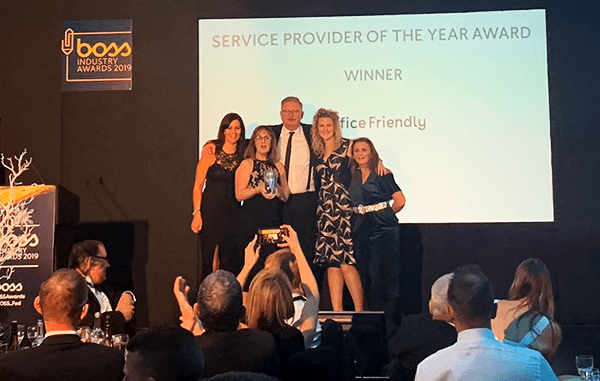 Office Friendly won three awards at BOSS Federation's BOSS awards ceremony at the Tower Guoman Hotel in London last Thursday
The prestigious event celebrates the achievements and successes of companies and individuals within the office supplies industry.
The group was awarded service provider of the year for its continued evolution of its business development service offering and three flagship brands: creative and marketing service KascAid, social sustainability programme Weaver, and learning and development programme Pioneer. The award also acknowledges the group's developing business model in order to stay relevant to the changing marketplace and the membership's needs.
Business development manager, Alex Stone, was awarded emerging professional of the year for his efforts in supporting independent dealers and their teams to achieve their business potential. He said: "It fills me with personal pride and makes all the hours we put in worth it. Thank you to all the Office Friendly team and to our close stakeholders who have supported me and the group along our journey."
Finance assistant, Marilyn Caster, was awarded the unsung hero award alongside seven other individuals from across the industry. Marilyn was secretly nominated earlier this year after marking her 20th anniversary working for Kingfield Heath and later Office Friendly.
She said: "I'm humbled and delighted to have been awarded an unsung hero among my industry peers. I'm grateful to my colleagues for their kind words and look forward more happy years at Office Friendly!"
MD Julie Hawley commented: "Along with marketing director Katie and sales director Keeley I'm absolutely overjoyed for our team. We've worked hard to ensure that the service we provide to our members is relevant, practical and of the highest quality. Service provider of the year is a great seal of approval from the Boss Federation, and recognition for both Alex and Marilyn is the icing on the cake. Thanks go to all who have supported our team."
Earlier that day, Hawley joined industry professionals Richard Ford, Philip Beer and Simone Hindmarch at the trade association's Leaders of the Future conference held before the ceremony. Julie chaired a roundtable on the challenges facing dealers in today's market.
Office Friendly member Commercial also took home the sustainable leadership award for their continued dedication to creating an ethical and sustainable supply chain.
Don't forget to follow Dealer Support on Twitter!