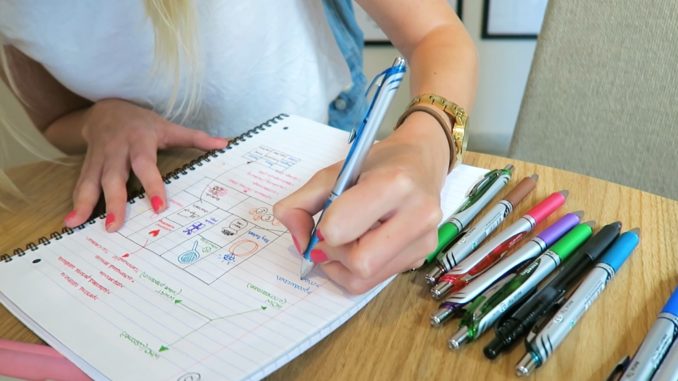 Pentel is preparing for a summer packed full of activity as it enters the latest stage of a new marketing campaign. This follows a successful exam period during which Pentel partnered with social media influencers to help break the 'eat, sleep, revise, repeat' cycle, by providing motivational content, encouraging students to share their revision tips and techniques.
With the focus firmly on EnerGel, influencers demonstrated how colour plays such an important part during their revision. From timetables to mind maps, EnerGel's 12 ink colours proved to be an essential tool.
Before the back-to-school season is upon us Pentel will focus on having fun, being creative and enjoying the summer months. As the summer unfolds fans will see a constant stream of activity across social media including competitions, engaging content and further influencers reviewing the Pentel Arts range and bringing to life #StylishStationery and #CreativeInspirations.
Pentel's challenge this summer is to encourage young people, craft enthusiasts or leisure artists to try Pentel Arts products and 'Discover Your Best' – using imagery and ideas to communicate just how easy creations can take shape when choosing the right products. Pentel will also be inviting fans to test and review Pentel Arts products over the coming months, looking for honest reviews and examples of their creations. There will be the opportunity for 100 artists, crafters or creative enthusiasts to take part and win a selection of Pentel Arts products. EnerGel samples will also be included in goodie bags as part of student sampling activity across colleges and universities throughout the summer.
The peak of the campaign will take place during July and August where an audience of 16-24 year olds will be targeted in cinemas across the UK and Ireland with a 30-second commercial. Appearing before summer blockbusters such as The Lion King and X-Men: Dark Phoenix, the infamous 'blue people' make their return, demonstrating the quick-drying, non-smudge properties of EnerGel ink in their own humorous, memorable way.
Pentel marketing manager, Wendy Vickery, said: "Back-to-school is just around the corner but we want students to have fun this summer before they start thinking about the new term. Involving students in our social media activity is an important part of our campaign. Getting our products in to their hands and giving them the opportunity to review them further demonstrates the credibility of our products. And as the new term approaches, we will continue to generate awareness of EnerGel and provide continued support for our trade customers with strong promotions and marketing activity to generate consumer demand."
Don't forget to follow Dealer Support on Twitter!