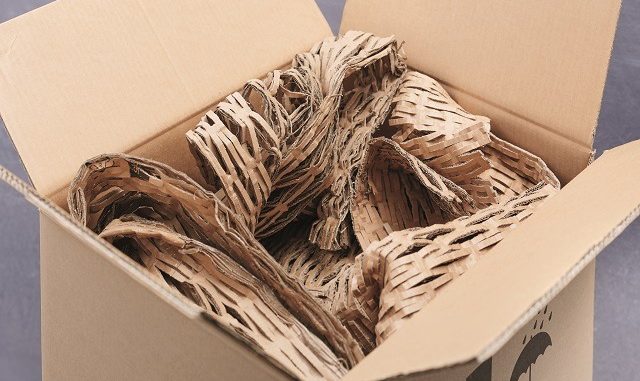 As we continue our move away from plastic packaging, the UK must consider the increased use of alternative materials, such as cardboard, and what this means for our sustainability efforts.
We look into how perforating machines will help to keep recycling in-house with Simon Ellin, CEO of the Recycling Association, providing insight into UK sustainability.
From Asda to Waitrose, most major UK supermarkets are all involved in recycling initiatives.
Many of those brands have now signed up to a UK plastics pact actioned by Waste and Resources Action Programme (WRAP) which aims to transform the way businesses are using plastics. With predictions that plastic will be removed from packaging frameworks, we are likely to see a rise in alternative sustainable packaging materials.
Eventually, this will pose a new challenge to packaging plants and distribution centres alike. An increase in usage of new packaging resources and materials means an increase in those waste types, one of which is likely to be cardboard.
It's now time for the UK to innovate and prepare for a rise in these waste types.
UK recycling and the NAO
According to a 2017 study, the UK has increased recycling efforts from under a third (31%) in 1998 to almost two thirds (64%). While this may seem impressive at face value, there are cracks beginning to show.
A 2017 government report estimated that our households and businesses use around 11 million tonnes of packaging each year. The UK simply doesn't have the required infrastructure to be able to recycle all of its own waste, resulting in most of it being sent abroad. A recent report made by the National Audit Office (NAO) has revealed that we may not actually be recycling as much as we think because of this.
Once abroad, the UK as a whole loses an element of control on the waste that's handed over. It's here that we risk the possibility of our large amounts of waste going straight to landfill, presenting a crucial issue. That's not to mention the increased pressure the UK has been put under as a result of the recent China Import ban.
It's likely to be because of these issues that the Environment Secretary, Michael Gove has previously said that the UK exports too much waste abroad.
So, with that in mind, what's the answer?
A new way of recycling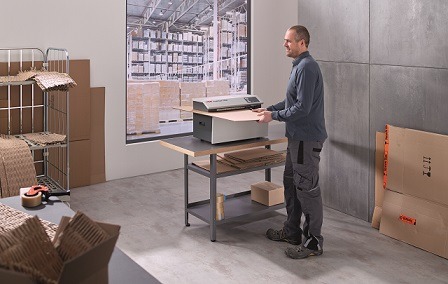 New technologies mean new possibilities and perforating machines seem to be the next opportunity presenting itself to our vertical markets. The UK has an obligation to look into sustainable routes for
each material, including cardboard, with this likely to become a prominent material in our future packaging. For cardboard and some paper-based materials, perforation is now the answer.
Perforation can turn cardboard into universal quilted packaging material by puncturing holes into old cardboard off-cuts, leaving a flexible, yet strong, recycled packaging solution.
By recycling cardboard off-cuts, it reduces or removes the need to purchase and use single use plastic alternatives such as bubble wrap, which can result in costly monthly outgoings. Using a recycled alternative saves on the cost of packaging materials, in many cases saves on the cost of having excess cardboard collected for recycling and significantly adds to your green credentials.
Implementing a perforation system into your processes
Not only does a perforation system generate economic and ecological packaging, it also gives virtually any UK company that needs to protectively package products for despatch the possibility to regain control over their recycling efforts.
This was the case for MotorNuts, a leading retailer of car parts and accessories in the UK. The team at MotorNuts has been buying plastic packaging materials and shredding paper to fill out their customers' parcels, an effort that was costing the business in time and money while also damaging the environment. Their warehouse operation also generated a significant quantity of waste cardboard, which they were paying to have collected. The implantation of a ProfiPack machine has since changed their packaging model for the better, dramatically decreasing their use of plastic packaging by replacing it with perforated cardboard protective wrap and void fill made from the waste cardboard that they no longer need to pay to have taken away.
Simon Ellin, CEO of the Recycling Association shares his thoughts on perforation becoming a part of your recycling process.
"In-house perforation of used cardboard helps to move the product up the waste hierarchy where re-use is a resource efficient option."
"What I particularly like about perforation solutions is that they offer a viable alternative to plastics packaging such as bubble wrap and expanded polystyrene. Using perforated cardboard is much more environmentally friendly and offers the end user a recycling option that plastic products don't.
I really like the idea of perforation becoming a part of a sustainable recycling process. It's now time for packers/fillers across the UK to have a closer look at what perforation could offer them as a sustainable packaging solution."
For more, visit https:/hsm.eu