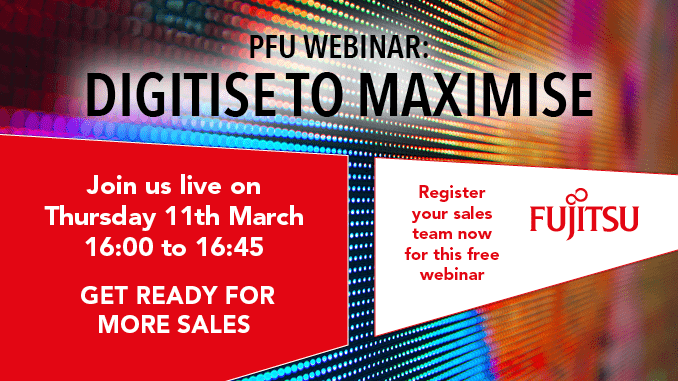 Your new sales opportunity with Fujitsu is ready and waiting
Businesses know they need to digitally transform if they are to be competitive in the future. Here are the challenges driving business transformation:
86% find managing the volume of business information a
challenge
24% have lost important documents
23% have experienced inaccurate decision-making
26% cite current setup makes it difficult to share
information
35% do not yet have a clear digital transformation plan
61% believe it is impossible to become completely
paperless
And they want:
improved productivity of the workplace (31%)
simplification of processes (30%)
cost-effectiveness (28%)
faster decision-making (25%)
client/customer satisfaction (24%)
ability to easily share information (23%)
avoiding wasted time (23%)
This is a clear opportunity for the savvy dealer, and PFU EMEA LTD* Embrace digital are here to help you deliver the solution to your customers.
WHY REGISTER FOR THE WEBINAR
Join the market leader in document scanning solutions PFU EMEA LTD* to understand the key business drivers around scanning and the paper-to-digital conversation in our fast-changing workplace.
They'll be sharing their recent findings from their Organisational Intelligence report that will give you the detail you need to help you capture business from new and existing clients, looking at where customers are on their transformational journey, what their concerns and challenges might be and the importance they place on scanning and information capture.
They will explain how their award-winning scanners and software provide quick, easy and cost-effective solutions for your customers.
And everyone who attends the session will have the chance to win a number of great prizes on the day that will be available through their Imaging Rewards platform.
THE OPPORTUNITY
This is a great opportunity for dealers to add another string of expertise to their bow and get themselves and their sale team clued up about a new revenue stream that has a comprehensive support programme offered by a world-renowned manufacturer.
A PROMISING SIGN
Organisations recognise that they need to do more, with 80% turning to external experts to help them do so. This creates opportunities for dealers who provide information capture solutions, especially as 61% believe the paperless office is an impossible dream.
Join our live webinar for an insight into this lucrative sales opportunity
DATE: THURSDAY 11TH MARCH
TIME: 16:00 TO 16:45
AT: https://live.remo.co/e/pfu-fujitsu-digitise-to-maximise/register