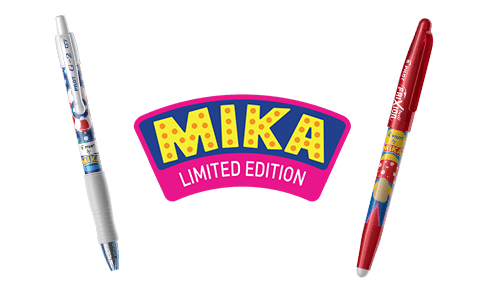 In 2018, Pilot celebrates its 100th anniversary – for the Japanese company, it has been a 100 year long success story marked with industry-changing innovations and international expansion.
To celebrate this milestone and welcome the next 100 years in a fitting style, Pilot and popstar Mika have decided to join together to celebrate in a suitably creative, colourful, and fun way. Pilot asked Mika to redesign three of their most iconic and best-selling ranges, to create a collectable "Pilot by Mika" range of limited edition pens! The Limited Edition pens are available now and consist of an eclectic mixture of colourful, weird, playful barrel designs inspired from pop culture themes, Pilots' maritime origins (founders were sailors), and candy stores!
The Pilot V5, G2, FriXion Ball and FriXion Clicker are all available as Limited Edition Mika editions in loose, blistercarded and counter display formats.
Stuart Barker, marketing manager for Pilot Pen UK commented: "We are very excited to have Mika on board to help us celebrate our 100 years birthday in a unique way for the writing instrument market, the pens looks amazing and I'm sure will be extremely sought-after by both fans of Mika and of our top-selling products who are looking for a twist on the usual barrel designs."
In Mika's own words, "It's a pleasure to celebrate Pilot's 100th anniversary together with you and to create a special project for this birthday. Pilot has been part of my life, I grew up with these pens, I grew up stealing my father's V5, stealing my mother's (V7) and learning how to write properly with these pens and also learning how to draw. So using these same pens that we now have in our design studio today, we've created another world and our versions of Pilot pens for this birthday. It's an honour, we're very happy to be doing it, I am so happy to be actually drawing these things that are going to be part of something so iconic."
The Mika editions are launched in January in the UK and will be available only during 2018.