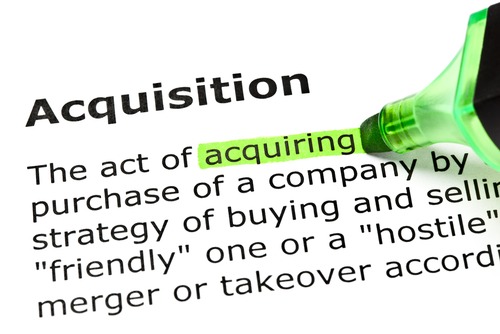 Pinnacle Document Solutions has completed the acquisition of Copier Mate, one of Wales' largest independent Toshiba dealers.
The transaction marks Pinnacle's third acquisition in less than two years and further strengthens the company's position in becoming one of the largest MPS providers in South Wales and the South West.
"We are delighted to welcome Copier Mate to the Group," Clive Hamilton, CEO of the Pinnacle Document Solutions Group said. "We have ambitious growth plans and this acquisition will allow us to offer our workflow and managed documents services offering to an even larger customer base."
The value of the deal, which has not been disclosed, was supported with institutional backing from Finance Wales.
Sam Macalister-Smith, finance executive at Finance Wales commented: "We are delighted to support a significant part in this transaction. This deal not only strengthens Pinnacle's position in the industry but is also a great example of how Finance Wales and businesses can work together to protect and grow Welsh interests in a rapidly changing European economy."
Clive Hamilton became the owner of Pinnacle in March 2015 following a successful Management Buy Out and has since embarked on an aggressive expansion strategy. The Group acquired Fast Technology London (Ltd) in February 2016 and secured further significant assets from IT Provider ComputerWorld in Bristol six months later. The Copier Mate acquisition marks the next step in Pinnacle's ambitious growth plans to become the largest independent provider of Managed Print Services in South Wales and the South West.
Previous Owner Ed Barnett explained: "Pinnacle is a long-standing player in the industry with a sterling reputation and they are a company, we feel, are similar to that of Copier Mate. In fact, our values and approach to business are so similar, that we felt this was an ideal partnership to make."
The move was welcomed by Carl Day, Toshiba Channel in direct Sales Director – Uk & Ireland: "We are delighted that Copier Mate has joined the Pinnacle Group. Under the Pinnacle umbrella, Copier Mate will be able to accelerate Toshibas market share growth within South Wales, benefiting from the Groups extensive infrastructure and resources. We look forward to working with Pinnacle and Copier Mate, assisting in the success of our UK growth strategy. I take great pleasure in welcoming their clients and staff to the Toshiba Tech community."
For the foreseeable future Copier Mate will continue to trade under its existing brand as a company within the Pinnacle Document Solutions Group. Copier Mate customers will continue to enjoy all the products and services from Toshiba. In addition the takeover will ensure Copier Mate customers will be able to benefit from Pinnacle's extensive suite of products, services and software solutions.