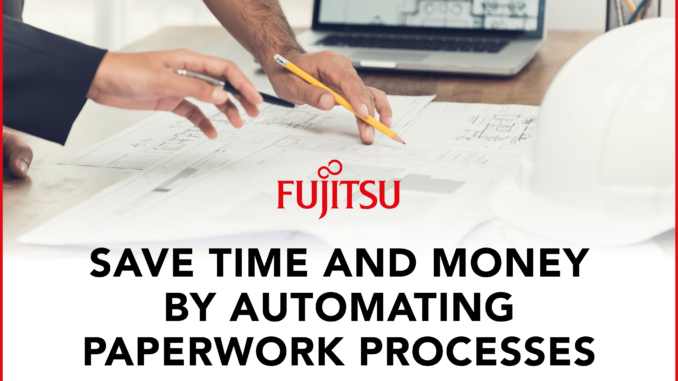 Sponsored
It can be challenging to keep on top of paperwork, for any business – but it's even more difficult if your way of working has inefficiencies in handling, processing and archiving that data. Receipts and dockets take time to search through, and even small mistakes can lead to misfiled documents which potentially takes hours to fix.
Laydex Limited, a construction materials business in Northern Ireland, found itself in a position where it required help automating its day-to-day paperwork processes, and it turned to Fujitsu for help. The business was hoping to streamline its accounts department and needed a scanning and software solution that suited it.
Laydex had been hindered by slow, inefficient paperwork – particularly in the accounts receivable department. Paper delivery dockets were supplied with each delivery and signed by the customer; they would then be collected at the trade counter or by the delivery driver, and filled by day, week and month just in case the customer wanted their own copy. Of course, if the customer did request a copy, it took time to retrieve, copy and post to them, and the originals would need to be refiled. This was the quandary Laydex found itself in.
Fortunately, Fujitsu – in partnership with Enterprise Imaging Systems (EIS) – had the perfect solution: the fi-7160 scanner. It gave Laydex the ability to quickly scan the returned delivery dockets in batches of 50, which are then processed by Trax software and filed by docket number, customer name and delivery date.
The other area where Laydex required help was in the accounts payable department, as purchase invoices came in via post and were filed manually, while e-mailed purchase invoices would be printed out and also stored manually. The fi-7160 solved this issue too, by scanning the posted invoices and importing them – plus the e-mailed invoices – into the Trax software. This allowed invoices to be automatically filed under the SAP B1 transaction number and stored securely. Ultimately, this solution has allowed Laydex to cut down on hours and hours of manual admin work and eliminate the potential for human error, while keeping data secure.
Why should businesses digitise their accounts payable systems?
Keeping relationships strong
Financial information always needs to be up-to-date – but this is next to impossible if the data processing is manual. There's a huge margin for human error – including typos and spelling mistakes, missed invoices and missed payments – which can seriously damage relationships between a business and its suppliers. Having data digitised also allows for immediate responses to queries.
Saving time
Quite simply, digitising these processes saves time – and, as a result, money. Staff shouldn't be wasting their time digging for physical data when the process could be automated and the data stored in an easy-to-find-and-navigate directory.
Security
Another huge upside to digitising accounts payable information is the security benefits; it's all too easy to lose an important scrap of paper – or have it stolen – but digital data can be made secure at the click of a mouse.
Getting it right, every time
Quite simply, digitising these processes allows a business to work far more efficiently, reduce their exposure to fraud and theft, respond quickly when necessary and easily access all of the information that's being processed.<box out>
Incorporating the very latest in scanning technology, the fi-7160 will reliably and intuitively scan mixed batches of documents at speeds of 120 images per minute through a robust 80 sheet ADF. The PaperStream IP driver takes the work out of image cleanup when scanning invoices, ID cards, receipts, forms, or any other day-to-day paperwork. PaperStream IP automatically improves the image quality, removes unwanted backgrounds, and optimises your scanned images for optical character recognition.
Fast, 60 ppm/120 ipm scanning in color, grayscale and monochrome.
80-sheets automatic document feeder.
Advanced paper handling technology for the ultimate in feeding reliability.
LED light-source.
Scanner central admin suite.
Embossed card scanning (1.4 mm thickness).
iSOP (Intelligent Sonic Paper Protection).
Comes with PaperStream IP (TWAIN/ISIS), PaperStream Capture and PaperStream Capture Pro is available as an option.
Fujitsu gives you points for your scanner sales and engagement – register for an account at www.imaging-channel-program.com.
Don't forget to follow Dealer Support on Twitter!