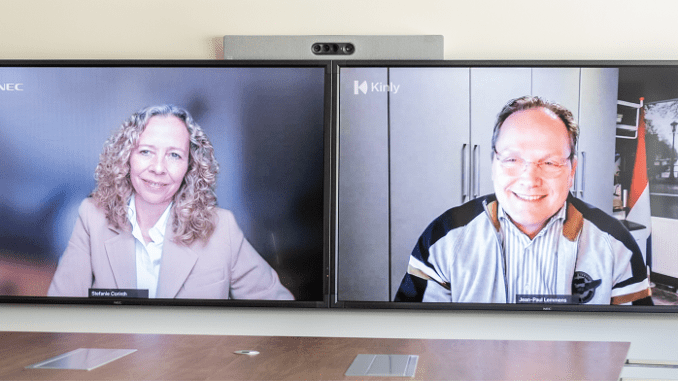 Sharp NEC Display Solutions Europe has announced the first European partner to join the Sharp/NEC Global Partner Program, now with Kinly, a leading global specialist in video collaboration services
The global partnership is the culmination of many years of close work between Kinly and Sharp/NEC. It will be focused on joint areas of competence and expertise between the two international partners, including audiovisual solutions, collaboration solutions for the workplace and communication solutions for modern buildings.
Sharp/NEC's Global Partner Program is part of its Sharp/NEC One Global initiative and is designed to provide international support and services to its integrator partners. Kinly will receive dedicated resources, as well as pre-sales and post-sales support from the Sharp/NEC Global Team, access to its global technology portfolio, global pricing, global partner status, executive sponsorship, access to marketing development funds, special demo discounts and a global bounty programme.
Stefanie Corinth, senior vice president sales EMEA at Sharp NEC Display Solutions Europe, said: "As the pandemic continues to disrupt businesses across the globe, it's never been more important to invest in remote working, communications and collaboration solutions. We are confident that this strategic partnership will help Kinly's high-quality solutions and expert services reach the widest possible end-user audience."Jean-Paul Lemmens, global procurement director at Kinly, commented: "Right now, our customers more than anything need to enable their employees in the new hybrid workspace. Kinly's standardized, as-a-Service offering of reliable, easy-to-use rooms and solutions must solve this need with scalable, global roll-out programs. Sharp/NEC's industry-grade products, with world-class delivery, warranty, and support, are instrumental to our continued growth across the globe. We look forward to a future of continued innovation and collaboration in our partnership."
For more information on the Sharp/NEC – Kinly Global partnership, click here.