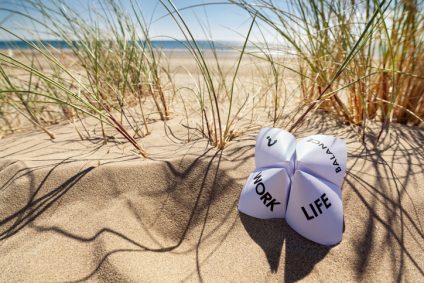 We spend so much of our life at the office: eight hours a day, 40 hours a week – and that's not even counting commutes to and from work and any extra shifts or overtime. Before you know it, the office has become your home away from home. But what if your home away from home is having a negative impact on your mental health?
With mental health starting to edge into the spotlight more and more, and with TUC reporting work-related stress as "growing epidemic", it's essential that employers are doing their bit to make workplaces more mentally friendly. But how? YES Glazing has six tips that you can implement into your office starting today.
1. Work/life balance
Everyone wants to advance in their job and smash their career goals, but expecting employees to work ridiculous hours and answer emails once they're off the clock is pushing us more towards a culture of stress and burning out. So rather than throwing around 'work/life balance' like a catchy buzzword designed to hook in new applicants, why not actually practice what you preach and make it a reality? Here's how…
Encourage staff members not to answer work-related emails once they have left the office
Implement flexi-time that allows staff members to come in earlier and leave earlier, or come in later and leave later. This allows them to work around issues such as traffic, stressful commutes and childcare arrangements. Could you go one step further and allow team members to work from home every once in a while?
Speaking of childcare, could you help ease the stress by signing up to the childcare voucher scheme? Letting people take time off easily for doctors appointments, plays and allowing them to leave early if a child becomes sick can really help, too
Organise a monthly company outing to do some out of the office bonding. Some ideas include mini golf, cinema trips or even just a Friday night at the pub
Allow staff members to approach you and ask to adjust their hours if something isn't working. This could be due to balancing childcare and finances, or to ease back into work after maternity leave or sickness absence. It shows you care, after all
2. Look around you
With a great deal of our life spent within the four walls of an office, it's important that those four walls are as healthy and supportive as possible. Here's our best tips for making that happen…
Encourage as much natural light to enter the room as possible. Sunlight through big windows, as opposed to fluorescent bulbs, has been proven to encourage productivity, better moods and increased concentration

Do you ever work from home? How's your home office set up? Don't stick your work under the stairs; opt for a bright and airy room with big windows and you should notice an uplift in your mood straight away

Open or closed? There's a lot of argument about which is better, an open plan or closed office, but being able to get up, move around and socialise and engage with colleagues can really help to boost people's mental wellbeing
Create breakout zones. It doesn't have to be big, a simple bench and table or a few comfy chairs will do, just somewhere that gives people a chance to catch up about non-work topics or play some games can be a vital step towards reducing stress and boosting relaxation
Take a look at the walls and decor around you. Are things looking a bit drab and in need of a freshen up? A modern and well-designed workspace with exciting and innovative features can make a world of difference. Think bright and airy colours with personalisation elements like photos that will help your staff feel connected to the office
On that note, even a lick of fresh paint can have an impact. Opt for whites and off-whites, blues, yellows and greens to brighten up the place and inspire creativity
"When it comes to improving mental health, your office space may be the last thing you think of," says Tom Ellis from YES Glazing. "But the reality of the matter is that it can actually have the biggest impact, whether you spend all day in an office or freelance from home. Let in as much natural light as possible to lift your mood. Think about making your surroundings as bright, airy and light as possible – whites and off-whites are perfect colours to brighten up spaces, complemented by bright blues or greens to spark ideas."
3. Open up the conversation
One of the hardest things to do is to talk about mental health, but it's also the main thing that needs to be done. In fact, if you only take one step towards bettering mental health in your workplace this year, then this is the one you need to do.
Stigmas and barriers surrounding mental health are slowly breaking down, but there's still more than needs to be done. Encourage your staff to approach their manager or a senior member of the team if they are starting to feel low or overwhelmed, or even if their personal life is starting to impact work. Just making it clear that someone is available to listen can make a world of difference.
Nick Davies, leading UK psychotherapist and hypnotherapist, says opening up the conversation needs to be a top priority:
"Workplaces need to be doing a lot more to find out about and treat their employees' mental health. In everyday life, most people, especially men, fear talking about mental health issues for fear of being judged, now imagine you are worried you could lose your livelihood too by talking about it and you get an idea of how big the problem is. Not only are people fearful of opening up, but they are fearful of the repercussions, so mental health needs to be taken more seriously but when people are supported and given the right help you will increase productivity and loyalty to your business."
4. Educate everyone
Anyone can listen to problems, and that's fantastic. So why not go even further?
You can arrange to send members of your staff on training courses to become Mental Health First Aiders. Like physical first aid, once trained your employees will be able to act as the first port of call should someone start to feel mentally unwell.
But that's just the first step. From there it's important that your workplace is flexible and helpful when it comes to your employees seeking help. Mental health issues can be treated, so make sure they are supported no matter what. That could mean allowing employees to attend therapy appointments even during working hours. Having official HR policies in place will help tell your staff that you are supportive, and practicing what you preach.
"Educating people about mental health is key to creating an open and honest culture of wellbeing in the workplace," said Mary Wallace, HR officer at Northumberland National Park.
"In the past two years, Northumberland National Park has rolled out mental health resilience training for all employees to help them recognise the signs of mental ill health, know how to respond to it and seek support. We have also appointed mental health advocates to give employees a dedicated point of contact for any issues they might have.
"Designed to create a long-term culture change across the Authority which will benefit employees for years to come, our vision is to create a workplace environment where people feel like they can reach out for help if they need it. Employees are fully supported and there is no shame in talking about mental health.
"Through sharing experiences and creating the space to talk freely and honestly, businesses can really advocate positive mental health in the workplace and help to reduce the stigma around it."
5. Make wellness a top priority
You remember us saying that we spend about eight hours a day at work, right? Well, if you're one of the many many people in the UK who work in an office, then you're going to be sat at a desk staring at a computer screen for at least seven out of those eight hours. And we all know that's bad for you. If you're one of those who likes to eat lunch at your desk, then it adds up even more! Here's how you can encourage your staff to get up and about at the office:
Order an office fruit basket to be delivered every week instead of a tuck shop. Better for everyone!
Organise lunchtime walks – should the weather be on your side – even if it's just for 20 minutes or so
If people have activity trackers, set up stepping competitions to see who can get the most in a working week. The winner gets a prize!
Encourage staff to take regular breaks from their screens to get up and walk around every hour – the activity tracker competitions can help with this!
Install a water cooler in the office and remind people to take sips throughout the day
Organise someone to come in and teach yoga or meditation to help take care of their minds as well as their bodies
6. Encourage gratitude and positivity
You know what feels good? Being recognised and congratulated when you do a good job. But did you know that it's not only the person being praised that can reap the benefits, but also the person giving them?
Showing gratitude can have a tremendously positive impact on our levels of happiness. It doesn't even have to be anything too elaborate either and can be done by anyone to anyone. If you're a manager and your team has worked particularly hard, why not treat them to a special lunch? If someone helped you out, leave a handwritten post-it note on their desk to brighten their day.
By working together to build an all-round culture of recognition and gratitude in your workplace, you will be helping to drastically reduce stress, boost positivity, encourage motivation and build strong and lasting bonds between colleagues.
Don't forget to follow Dealer Support on Twitter!